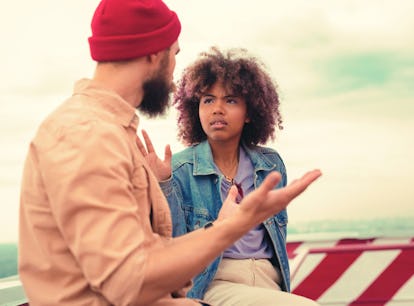 If You Catch Your Partner In A Lie, Try This Instead Of Freaking Out
The first step is always to call 'em out.
There is nothing quite like that sinking feeling in your stomach followed by the flash of anger and hurt that comes when your partner lies to you. Obviously, some lies are bigger and more devastating than others, but even small little white lies that accumulate over time can feel like a thousand punches. What I'm saying is that being lied to by the person you love just plain sucks — and while you shouldn't have to put up with it, knowing what to do when your boyfriend lies to your face can determine whether your relationship survives dishonesty or will be doomed by it.
Doing the "right" thing in the moment is especially hard, because being betrayed, even in small ways, might bring up a lot of feelings. Your instincts may be to lash out in defense, but if what you want is actual resolution and for the behavior to stop, following those instincts may not be the most effective path. So, to help find out what to do when someone lies to you in a relationship, I consulted the experts. Here is how they say to respond if you are ever in a situation where you've caught your SO in a straight-up lie.
Ideally, we would never lie to our partners or be lied to, but people are complicated, and sometimes they make mistakes. While empathy and understanding — paired with clear boundaries — are a good place to start, the fact remains that a partner who continually lies or deceives you intentionally is not worthy of your love or your time, and that's the truth.
Experts:
Susan Winter, NYC relationship expert and love coach
April Masini, relationship and etiquette expert
Laurel House, celebrity dating and relationship coach
Editor's Note: This story has been updated by Elite Daily Staff.
This article was originally published on