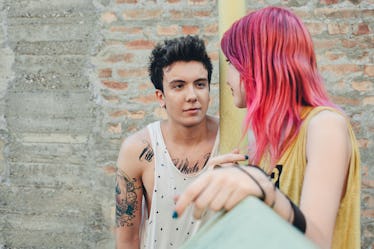 Here Are 5 Signs Your Partner Is Lying To You And How To Address Them
Body language can tell you *so* much.
Relationships are built on trust. Yeah, yeah — you've probably heard this a million times before, but that's because it's true! Without a solid foundation of trust, accountability, and reliability, your relationship is far more likely to be on the rocks, especially if your SO has been acting sus as of late. It's not easy to know what to do when someone lies to you in a relationship, but the first step is learning to recognize when your partner is bending the truth.
When your boo is being untruthful, there are several different signs that may give them away. Certain behaviors and signals may suggest they're attempting to deceive you, but as Dr. Paulette Sherman, a psychologist and author of Facebook Dating: From 1st Date To Soulmate, tells Elite Daily, "The only way to be sure that your partner is lying is to catch them in the act or to have irrefutable proof," so be careful before confronting a partner you only suspect is lying. Once you make it clear you don't trust your partner, there's no turning back, so you'll want to be certain.
Here are a few clues that may indicate they're lying to you and how to address them, according to experts.
Remember: Your significant other could be behaving oddly for any number of reasons, so before you jump to conclusions, try to have a conversation with them about your concerns. "You can ask them to tell you anything they have not been honest about and then share your feelings and thoughts regarding this," Dr. Sherman suggests. According to her, if they come clean or you have proof of their dishonesty, you can try a couple things to work on mending the relationship, such as "counseling, or telling them you need to rebuild the trust" by putting some boundaries in place.
However, Safran says if you confront a partner and "still feel that they are not telling the truth," then you might want to consider distancing yourself from the relationship. Ultimately, how you move forward is completely up to you. If working things out and rebuilding your trust and communication is in the cards, then it might be worth a shot. And if you think you'd be better off moving on from the relationship, that's totally OK, too.
Trust your gut, prioritize communication, and know that you're worthy of a rock-solid relationship.
Sources:
Dr. Paulette Sherman, a psychologist and author of Facebook Dating: From 1st Date To Soulmate
Stef Safran, matchmaker, dating coach, and founder of Stef and the City
Susan Winter, relationship expert and love coach
April Masini, relationship expert
Laurel House, celebrity dating and relationship coach and host of the Man Whisperer podcast
Editor's Note: This story has been updated by Elite Daily Staff.
This article was originally published on