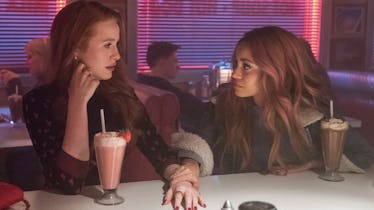 Here's What Your Go-To Netflix Show Reveals About Your Relationship
Are you a true crime or a dark comedy kind of lover?
CW
Call me sentimental, but I'd like to think that you can tell a lot about a person from knowing their favorite things. While the way someone dresses or the books they read certainly doesn't define them as a human, unpacking personal preferences can be really informative. Whether you've just started seeing someone or you've been boo'd up for a while, knowing what your go-to Netflix show reveals about your relationship can be super, well, revealing.
After a long day, there's nothing better than ordering in and cuddling up on the couch to watch a show with your boo. Whether you love historical comedies and your partner likes political dramas, or you and your flame both share a love for true crime, watching TV with someone you love can be a great way to unwind. And maybe you used to use your sister's boyfriend's roommate's Netflix and you recently realized the password was changed (rude!). If that's the case, watching a show with your boo may be the best way (read: your only way) to see your favorite series.
If you like to know the deeper meaning behind everything, here's what your favorite Netflix show may say about your relationship with your partner.