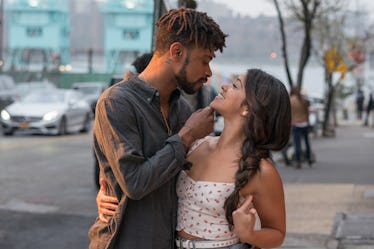 This Is The Summer Rom-Com You Need To Watch ASAP, Based On Your Relationship Status
I have to be honest, romantic comedies are not usually my jam. I'm not exactly sure what it says about me, but I prefer my entertainment to be dark and cynical. However, there are times when even I need to feel the warm, comforting embrace of a romantic comedy — the familiar beats, the romance, and (preferably) the happy ending. Plus, there's just something about this time of year, when the temperatures are rising, that makes me start to feel a little more open-hearted. Sound familiar? Then these summer rom-coms to watch based on your relationship status are the perfect fit for a movie night.
The reason I break them down by your relationship status is because, depending on what you're experiencing in life right now, different movies are probably going to ring differently. Maybe you're newly in love and want a movie that reflects the excitement and thrill of that new relationship energy. Or if you've just ended a relationship, you need a reminder that life will go on and you will get through this. Or maybe you're just living your best single life and want to see that reflected on screen. Whatever your situation, here's the rom-com you need to check out this summer. So, pop the popcorn and maybe grab a box of tissues, because things are about to get emotional up in here.