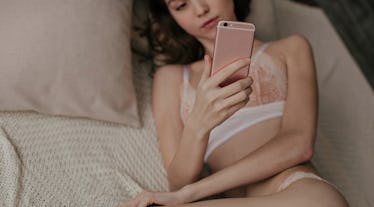 Make Your LDR Suck Less With These 10 Sexy Pictures For Your Partner
Just tryin' to keep things spicy.
You're counting down the days until you get to reunite with your long-distance love. Seeing them in-person again, and not over FaceTime, will be like running through a field of butterflies: pure magic. In the meantime, though, you want to get them super hyped for the kisses, dinner dates, and romantic nights to come with a sexy picture. These sexy pictures to send your long-distance partner are the perfect way to spice things up over text.
Truthfully, you can send sexy pictures to your significant other whenever you'd like. You don't have to wait until they're a few days away from packing an overnight bag, hopping on a plane, and rushing into your arms in the airport. You can spontaneously send them a sexy picture if you're about to go out with your besties, chilling in your backyard, or prepping for a call with them, complete with laughs and digital smooches.
However, if you know you're going to be seeing each other soon, it may be fun to tease bae with a sexy picture that could be described as cute or a borderline sext. Need #inspo? If you're in an LDR, here are some sexy picture ideas to send your partner to keep things hot and spicy.
Being apart from your bae is in no way easy, but finding someone who you've decided is worth the struggle really is something special. And while the road ahead probably won't be easy, doing your best to keep your partner integrated into your daily life in small ways — like sending along a few sexy snaps — will work wonders.
Editor's Note: This story has been updated by Elite Daily Staff.
This article was originally published on