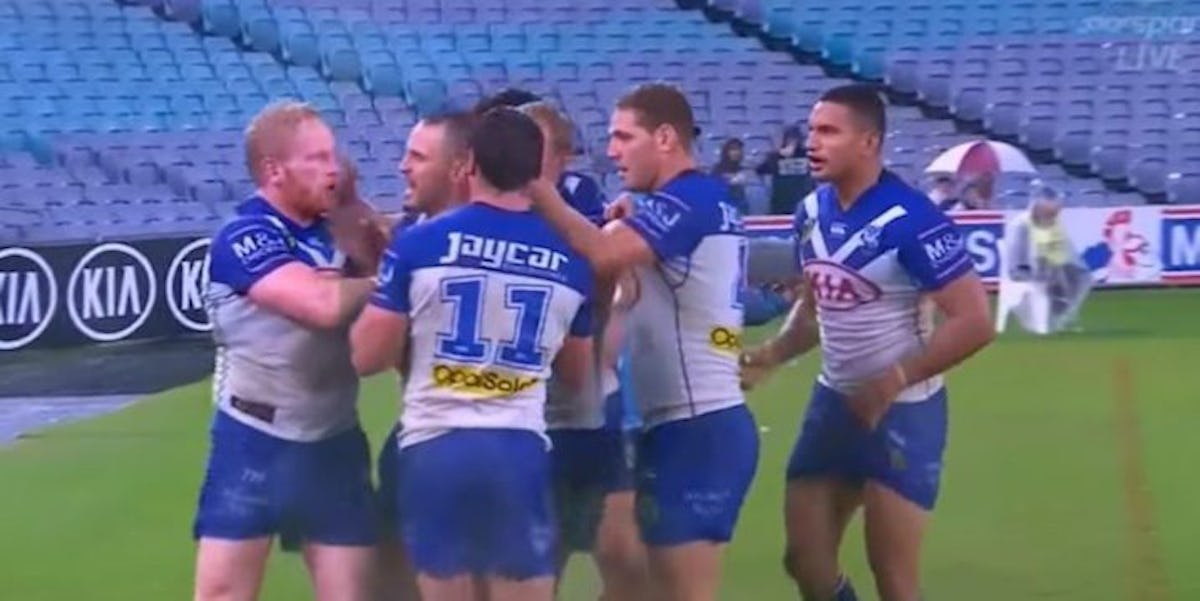 The Internet Loves This Well-Timed Pic Of A Rugby Player Eating Another Player's Ass
YouTube
Someone change MVP to MVT stat because Brenko Lee can clearly toss a good salad. And a valuable tosser he is, indeed.
During a recent match, the well-known rugby player was captured in this awkward photo that had his face situated all up in cracks — butt cracks, to be specific.
It's obvious how dedicated he is to the sport, but I didn't know he'd be that dedicated.
In the photo, taken by photographer Matt King, the Canterbury Bulldogs team member is seen chasing after Corey Oates of the Brisbane Broncos.
Like a lion stalking his prey, Lee went in for the kill in hopes of tackling Oates to the ground in a totally non-sexual, definitely-not-erotic fashion.
Unfortunately, his plan went south real fast, as the ball stayed securely in Oates' arms, but with his shorts quickly falling down.
And while Lee was still attempting to get Oates to the ground, he pretty much sandwiched his face right between Oates' butt cheeks.
Of course, the internet got a kick out of the unusual butt play action.
One rugby fan could only imagine what was going through both players' minds during the surprise ass-eating.
Another used this as prime time to throw out an appropriate food-related joke.
And this guy sees nothing wrong with a little butt play on the weekend, even if it's during a huge game.
Hey, whatever works to get your team a victory, right?
To me, it also seems like Lee is going for a reach around, hoping Oates would blow his load and get disoriented in the middle of the game.
Who knew sports were so raunchy in Australia? I think I'm living on the wrong continent.
There's no word as to how Lee's surprise butt play affected Oates in the moment, but Lee's team did go on to win the match 10-7.
So... perhaps butt play will become the team's new secret weapon?
OK, frequent on-field rim jobs will probably never be a thing, but Matt King's photography skills from this sporting event will hold me over for a long, long time.
It's hard not to "crack" up just looking at it.
Citations: Rugby Player Slams Headfirst Into Opponent's Butt In Unfortunately Timed Viral Photo (The Gaily Grind), Here is a perfectly timed photo of a rugby player's face tackling his opponent's butt (SB Nation)