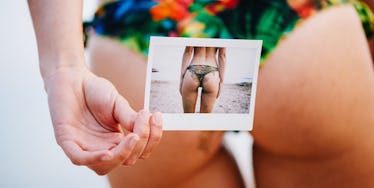 Butt Stuff And Anal Sex Are More Popular In This One Specific Age Group
If 2014 was the (unofficial) "year of the butt," 2015 is the year of the butthole — at least according to Pornhub.
The sexy streaming site recently unveiled a comprehensive report analyzing all booty-related search trends and data over the past six years, and what it found was surprising, to say the least.
The full report includes a (w)hole lot of anal-related data, but the bottom line? People love their butt stuff.
Pornhub analyzed search data and found interest in anal porn increased by a whopping 120 percent in the United States and a respectable 78 percent worldwide since 2009.
Of those searching for backdoor porn, the mid-lifers appeared to be the most interested. According to Pornhub's findings, users aged between 35 and 44 are 30 percent more likely than other age groups to search for anal vids, while those between 18 and 24 are 33 percent less likely.
Even those aged 65+ are more likely than us youngins' to look up butt stuff, by about 29 percent (but Millennials are most likely to search for "My Little Pony"-themed porn by a startling and, frankly, worrying 290 percent).
There's more...
Men are 33 percent more likely than women to revel in the rump...
...and "gangbang" porn is at an all-time high.
While anal play is on the up and up...
...these search phrases are going out the (back)door.
Citations: Its All Coming up Anal (Pornhub)