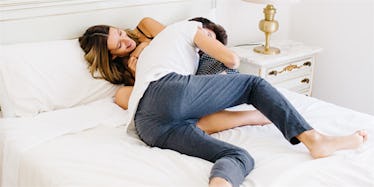 Why Guys Are So Afraid To Play With Their Butts, And Why They Really Should Start
The male G-spot is located in a man's butt.
This isn't news, nor is the fact that stimulating the G-spot (a walnut-sized gland located near the base of the penis) makes for a powerful orgasm.
So why, then, are so many heterosexual men so reluctant to go there? I mean, I'm a sex writer — one with a bundle of G-spot-stimulating toys currently piled in my spare room — and I haven't even given it an honest shot.
I guess my own reason for not doing so is because I'm a lazy masturbator.
If I've decided to masturbate, instead of having sex with my fiancée (whom I love very much), this is "me" time. I'm going to be selfish. I don't want to sweat my ass off or worry about somebody else getting off. I just want to go to town on myself. I want to use my hand, watch some porn, and that's about it.
So to grab a sex toy intended for my butt, lube it up, figure out how it works, reconfigure my body, insert it, get myself off and then clean both myself and the toy isn't really feasible for my own sloth-like preferences.
But if I'm being totally honest, I'm also a little scared. I've attempted doing so before, but it hurt like hell, so I said, "Fuck it," tossed the toy back into the box and concluded I'd never try again.
But this is just me, and I am but a small fraction of the male population who are reluctant to stimulate their prostate.
So I did some research into the topic, chatted to some folks and wanted to share the results to convince you — and myself — that butt play ain't so bad.
Why men are so afraid of prostate massage?
I put a call out on social media and a number of crowdsourcing websites to find the source of our collective reluctance.
Once I filtered out the disheartening number of homophobic and closed-minded comments, I found a surprising majority of men primarily cited only one thing for their apprehension: the belief that anal stimulation is solely reserved for gay men.
To some, this belief isn't necessarily unfounded. According to Broadly, "Some people speculate that the intense pleasure of prostate stimulation prove the gland evolved 'for' gay sex."
However, this theory was quickly denounced when the writer later clarifies that the prostate's main function is for storing and releasing semen.
The most compelling argument for this belief came in the form of an anonymous email from David*, 27:
It's because society still shames any homosexual activities as anti-masculine. It's from the same reason that, in women, bisexuality is considered not a big deal, but for men, bisexuality is considered just a step along admitting they're gay. Despite the fact that anal play is extremely pleasurable if done well (lube, clean toys/fingers, a willing and listening partner, etc.), it's still considered too 'other,' or even worse, too 'gay' to try.
Brent Aldon, Aneros' (a sex toy company selling prostate massagers) sales and marketing director, agrees, insisting the perception of being considered gay, combined with the perceived pain and the gross-factor, are all reasons keeping men from opening their cheeks.
Charlie Glickman, author of The Ultimate Guide to Prostate Pleasure, cited these same three unfavorable factors came up "over and over again" while researching for his book.
But for those coming around to the idea, Aldon insists they test out Aneros' most popular models, specifically the Helix Syn, which is "great for all levels of experience," and the Vice, which "offers more stimulation with its larger body."
The benefits of prostate play
You might be surprised that entering what many consider an "exit only" path actually boasts a healthy share of benefits, according to research from LELO.
For starters, it gives men a next-level orgasm that is reportedly 30 percent stronger than your average climax. With prolonged use, it was also discovered that men who stimulate their prostates report both thicker and stronger erections.
And last but not least, this same research found that prostate play can prevent an enlarged prostate and even prostate cancer. Regular prostate massages help rid the body of prostatic fluid, which can build up in the glands and result in said ailments.
As evidenced throughout history, the first step to trivializing a taboo topic is to openly discuss it.
The more prostate massage is normalized in conversation, more and more people will open their minds to it. I mean, it wasn't too long ago that anal sex for women was considered taboo, and for some, it still is.
But as for whether we're "missing out" by not playing with our butts? All arrows seem to point to yes.
The benefits of anal stimulation are enormous, the result (see: powerful orgasm) is insanely satisfying, and the only thing keeping us from experiencing this pleasure is our own unfounded apprehension.
So hopefully this article, along with other media outlets normalizing the act (shoutout to Broadly), more and more heterosexual men won't let people's sexual misconceptions limit what's possible for men in the future.
It's 2017, guys. Let's play with our butts.
*Name has been changed.