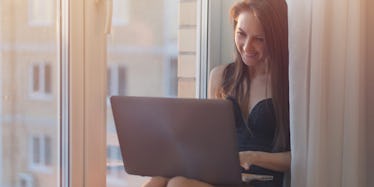 An Intimate Convo With A Webcam Model Who Makes $4,000 A Month Filming Herself
SHUTTERSTOCK
Webcam modeling is the future of porn. There, I said it.
There's something exceptional about being able to interact with your smutty material that makes the experience all the more intimate and authentic. But... it'll cost you.
Take live sex website Cam4, for instance. The site (which is the most heavily searched in its category) has grown from 22.5 million viewers to two billion in the span of a decade.
Cam4 currently boasts over 18,000 models in over 55 countries, meaning you (yes, you) could set up your own entrepreneurial business from the comforts of your bedroom by signing up and providing ID (if you're so inclined).
Cam4 performers are paid in 10 cents tokens — models take home 60 percent of their overall earnings, Cam4 takes the rest.
What does it take to be a prominent webcam performer during the days where competition has never been more abundant and fierce?
I spoke to one of Canada's top performers, Caitie Rage, 29, who started camming back in 2010 and took this gig full-time in 2011, to see how she makes it happen.
Bobby Box: How many times do you broadcast per week?
Caitie: I don't have a set schedule, but I generally cam three to seven days a week. Once a week if I'm busy with other work-related endeavors.
On average, how many tokens do you earn per show?
I've never really found a huge consistency in this industry, but I always expect to make a minimum of $100 before I do any major X-rated activities. Sometimes, I'll make over $1,000 in a day, but I find it's best not to expect that.
How long are your broadcasts typically?
Depending on the crew I have in my chatroom, I could be online anywhere from 1 to 8 hours in a shift and up to 18 hours over a 24-hour period, though it's been a while since I went that hard.
Earlier this year, I actually pulled a 25.5-hour broadcast that hit all sorts of entertaining peaks, especially when exhaustion hit me.
Earlier this year, I pulled a 25.5-hour broadcast.
What's the most money you've earned in a broadcast?
In one show, I made over $3,000, mostly because of a giant high tipper bombing me for Valentine's Day. It was absolutely incredible!
He was a very generous and kind gentleman who was in my room regularly, and he never asked me to do anything for the higher tips.
What's the average sum you earn per month on webcam?
On average, I make around $4,000. But again, consistency is rare. I invest a lot of my income into other career paths, so people will let me know when they want to help with something specific in my life.
In one show, I made over $3,000. On average, I make around $4,000 per month.
Do you have a job outside of camming?
Earlier this year, I launched an online alternative radio station, Rager Radio, and it's kept me busy, to say the least. It's amazing being able to broadcast as a webcam performer and radio host at the same time, and the support I've received from my friends and fans has been phenomenal.
I'm also a nude model and at times even a horror actress, but music has been a major passion of mine my whole life and finding a way to pay respect to the art without butchering it on a guitar has made me very content.
Have you ever received a strange gift from a fan? The answer's got to be yes.
This year for my Halloween show, I went all out in red paint from head to toe, huge horns and quite the Satanic set up. The following weeks, I started receiving a lot of occult literature. I'm completely fascinated by it, but it's a pretty strange string of books to get anonymously.
What's the strangest request you've received from a tipper?
People love watching me pop balloons for some reason. I don't just mean I hold a pin and pop it. Their favorite thing is for me to sit on one until it pops and I land on my ass. It entertains everyone, but I don't understand the attraction.
Do you have a boyfriend/girlfriend? How do they feel about you camming?
I'm currently single, but over the years I can say, without a doubt, that my webcam career has affected romantic relationships.
There are a lot of misconceptions when speaking about the adult industry, and I don't think that will ever change. My lifestyle isn't for everyone, but I'll be a smitten kitten when I find the person who can handle it.
What are tippers' most popular requests?
The most popular requests are definitely to see my tits or ass, hands down! Second to that would be to show my feet. Not to say that my chat room is full of foot fetishists... the world is.
Have you ever formed a physical relationship/friendship with your tippers?
I have certainly met a number of people from my chatroom at expos, but only a couple in person.
Each time, it's been someone I had spoken to for years and had built up a real online friendship with over the time we spent online.
Do your friends/family know what you do? If so, how did they react?
I've been very fortunate to find that the people I have around me are very supportive of what I do.
When I first came out to everyone about my career, I was scared, but also at a point where I really loved myself and was confident in who I am. They were actually surprised I hadn't gotten into something like this sooner.
Where do you see webcam modeling going in the future?
It's all virtual reality, and I'm so happy to be on Cam4 for this because they're the first site to provide a true VR option.
You can literally put on a headset and see me right there in front of you now. If you mix this with teledildonic technology like the Kiroo Pearl and Onyx, you are almost experiencing the real thing.
Is webcam modeling the future of porn?
I don't know if I could say it's the future of porn, as I feel like they're two peas in a pod. What a webcam performer does sometimes is truly pornographic, but for others, camming is just another way to see the actor/actress in another role on a more personal level.
For people who want high-quality, full-production porn, camming is less likely to fulfill that need.
The adult industry as a whole has been around for centuries, and while camming seems more advanced, some people need to keep their porn in a shoebox or tucked away in the closet somewhere, not in their browser history or bank statement.
How do you receive the funds earned on these broadcasting sites?
Different sites have different token systems. One token on one site is $0.05, while it's $0.10 on the next and $0.03 on the other.
Most sites have the same payout options like wire transfer and/or bank deposit, but their payment schedule could be anything from daily to bi-monthly.
Do you consider yourself a porn actress, in a sense?
Some days I do, and it's usually when I'm roleplaying. I spend most of my time just being myself online, and I don't feel like a porn actress at those points.
Would you ever consider doing porn?
I would, and I am, actually. I've been a webcam performer for so long, it's almost shocking I haven't done any.
What is the difference between you, a webcam model and a porn star?
A porn star is an adult actor or actress who gets on a set and follows a script or scenes, and they're paid a set amount for their performance (generally). A cam girl doesn't get paid however much to make a video for someone like porn stars.
We create, direct and produce all of our own content, and with the help of a couple clip sites, we also market on our own. We also work out our own sets, props and lighting and we all wish we had a hair or makeup artist.
Just like a porn star may also travel as a featured exotic dancer, any cam girl could be a dancer or porn actress/actor.
Your videos (NSFW) have some pretty eclectic subject matter — '80s Tunes Shower Time, Harley Quinn Jewel Heist — how do you come up with these ideas?
I have a pretty decent imagination, I guess. Camming is definitely a major outlet for a lot of the random ideas I come up with. I find it's also important to try and do a variety of themes to keep people interested.
A little role play can be a ton of fun and beneficial for everyone involved. I'm also a pretty nerdy dork, according to my fans, so I should add that there's no greater feeling than having people support your dreams and little random endeavors along the road.
What does it cost somebody for a custom video?
A video of just myself would usually go for $50, and a video of myself with a co-star would be $100 and split down the middle between us.
Tell us about your FundMe and other crowdsourcing campaigns.
I've personally raised funds online for a breast augmentation, traveling, my radio station, well… everything, really. Every single day is budgeted toward something when I set my chatroom goal.
As for my actual FundMe campaign, it pains me that adult entertainers are not allowed to use gofundme.com or most other crowdfunding sites. I've seen so many models lose money to those companies after their campaigns were shut down without a clear reason.
My next big fundraiser will be toward a house in California, but I'll be saving day-by-day instead of using a fundraising site.
How much does it cost to text with you? And what can clients expect when they pay?
To purchase my number, a client would pay $100. Connection is so important to every human. So many of us either don't have the time or the confidence, and texting or typing in a chatroom can either refill the social meter or act like a first step to interacting with a woman in person.
Does your job affect how you date?
Absolutely. I'm very straightforward about what I do and what I believe in. (Everyone should be, regardless of their career choice). I'm generally a very open person, so anyone I date has a good idea of what they're getting into.
Once upon a time, I would date as much as I could. Now, I'm very selective.