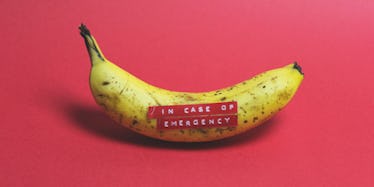 3 Unfortunate Guys Who Got Their Penises Trapped In Really Dumb Places
Catherine MacBride
Some men should have a permit for their penis.
Just because you were born with something between your legs, doesn't give you the right to flop it around wherever you want, poking, prodding and jamming it where it doesn't belong.
If you do, you deserve whatever happens to you. For some, that means an extremely awkward hospital visit, and for others, it means death. (Just kidding.)
During my life, I've definitely questioned how I can use my penis — outside of the normal things men do — to get more pleasure.
Sure, masturbation is cool and all, and even mediocre sex is pretty top notch, but there has to be another way I can make full use of my member. It is attached to me for life, after all.
He's like my best friend, except he's not that great at giving advice. I've asked.
What I haven't done, though, is let my thoughts stoop so low that I resort to taking extremely tight objects and jamming then onto my penis until it actually falls off. But unfortunately, not everyone is as smart as me.
To each their own, I guess, but if I'm being honest, here are three men who've got their penis stuck in things — and who definitely got what was coming to 'em. (And that was pain, if you hadn't already guessed.)
Item of choice: USB cable
If there's one major takeaway from this, it's not to follow everything you read on the internet... especially if it involves jamming things into your dickhole.
Item of choice: Metal ring
I'm all about experimenting with new ways to get off, but, like, c'mon. Metal? How could this not go horribly wrong? Next time, stick to silicone.
Item of choice: Wedding ring
Here's another man who is clearly uncertain about how to proper accessorize jewelry. It wasn't until his dick TURNED BLUE that he realized, "Eh, maybe this wasn't such a good idea after all."
How about we don't actually jam our penis into small metal holes and just say we did?
That would be a much better idea.