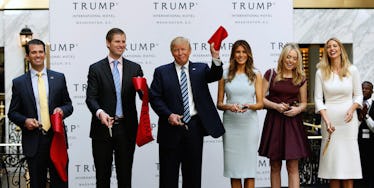 Thousands Of People Were Searching For Trump Porn The Day After The Election
REUTERS
On November 9, while much of the country was reeling from a disheartening Trump victory, some other citizens of the great U S of A were searching for Trump porn on Pornhub.
Yup, the day after President Donald Trump became a real, legitimate thing, Pornhub experienced a significant increase in searches for porn scenes that featured Trump's entire family.
(And no, the Trump family isn't actually in any porn videos. I'm guessing these people were just hoping to find some really good impersonators.)
I'm talking his daughters, his wife and, most notably — and what makes me judge America that much more than I already do for electing him as our actual president — Trump himself.
According to the graph above, "Tiffany Trump" experienced a 2,548 percent increase in searches on Pornhub, followed by "Melania Trump," (1,538 percent increase), "Ivanka Trump" (1,169 percent increase) and "Donald Trump" (874 percent increase).
Pornhub tells Elite Daily the Trumps accounted for nearly 250,000 searches in ONE day.
Pornhub tells Elite Daily the Trumps accounted for nearly 250,000 searches in ONE day.
Look, I'm not one to judge people's sexual fantasies. By all means, go find the Trump porn video that satisfies your sexual needs.
Maybe there's some BDSM scene out there where Donald Trump is the submissive and human rights is the dom, and I just haven't stumbled upon it yet. I could certainly see that being a turn-on for protestors, social justice activists and the like.
But my question is, why did people neglect Donald Trump Jr.? He's got the look of a frat boy whom you can't tell if you want to have sex with or punch in the face.
Surely people would have wanted to see a Don Jr. lookalike take some porn star to pound town in his dorm room and then pump her a frothy beer from the keg.
Or even Eiffel Tower someone with Eric! Hold on, why is Eric also missing from this list? God, people on Pornhub have shitty taste in Trumps.
The only thing funnier than the lack of searches for Don Jr. or Eric is the fact that Tiffany is the most searched family member out of all of them. Honestly, this is probably the only search engine she's gotten any attention on this entire election.
Maybe now her dad will be proud of her?