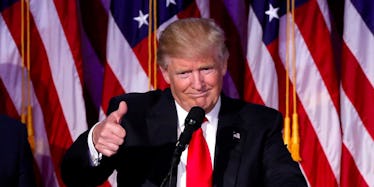 World Leaders Respond To Donald Trump Winning The Election
REUTERS
Well, it's official. Donald Trump is the president-elect of the United States of America.
(Cue mass hysteria and hysterical crying.)
While my entire Facebook feed has rightfully devolved into a support where we can collectively grieve, other world leaders have reached out to Trump offering him their congratulations.
While I myself struggle to utter the words "President Trump," these heads of state seemed to stay composed in their reactions.
Mexican President Enrique Peña Nieto
Mexico and the U.S. are friends, partners and allies who should continue working for the competitiveness and the development of North America. I am confident that Mexico and the United States will continue to tighten its ties of cooperation and mutual respect.
Italian Premier Matteo Renzi
In the name of Italy, I congratulate the president of the United States and wish him well in his work, convinced that the Italian-American friendship remains strong and solid.
Chinese President Xi
I place great importance on the China-US relationship, and look forward to working with you to uphold the principles of non-conflict, non-confrontation, mutual respect and win-win cooperation.
Russian Vladimir Putin
(Trump) spoke about resuming and restoring relations with Russia. We understand the way to that will be difficult, taking into account the current state of degradation of relations between the US and Russia... Russia is ready and wants to restore the fully fledged relations with the US.
Israeli Prime Minister Benjamin Netanyahu
President-elect Trump is a true friend of the State of Israel. I look forward to working with him to advance security, stability and peace in our region.
German Chancellor Angela Merkel
Germany and America are connected by values: democracy, freedom, respect for the law and for the dignity of human beings, independently of origin, skin color, religion, gender, sexual orientation or political views. On the basis of these values, I am offering the future President of the United States of America, Donald Trump, close cooperation.
French President Francois Hollande
This new context requires that France be strong. What is at stake is peace, the fight against terrorism, the Middle East and the preservation of the planet.
English Prime Minister Theresa May
We are, and will remain strong and close partners on trade, security and defense.
Scottish First Minister Nicola Sturgeon
We value our relationship with the United States and its people. The ties that bind Scotland and the US – of family, culture and business – are deep and longstanding and they will always endure.
Australian Prime Minster Malcolm Turnbull
The Aus Gvt congratulates President Elect Trump. With our shared, enduring national interests, our relationship will continue to be strong. pic.twitter.com/xzeIXVdKIJ — Malcolm Turnbull (@TurnbullMalcolm) November 9, 2016
Singaporean Prime Minister Lee Hsien Loong
Congratulations to President-Elect Donald Trump! His candidacy took many by surprise. At each stage he defied expectations, and his journey has ultimately taken him to the White House. It has been a contentious, ugly election season, that has exposed a bitter divide in the American people. Many will celebrate this result, while others will understandably be surprised and disappointed.
Thai junta leader Prayuth Chan-ocha
We have to be prepared and adjust ourselves to change. We have to be on the offensive and apply a balanced foreign policy with every country in the world that is our trade or dialogue partner.
Citations: World Leaders React to Donald Trump Winning the U.S Election (Time), Angela Merkel has given the perfect response to Donald Trump's unprecedented victory (The Independent)