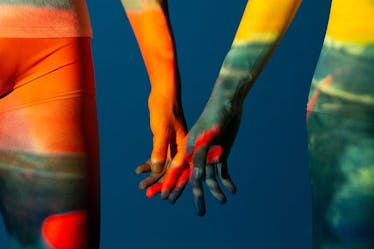 Here's What That Sex Dream About Your Ex Really Means
And no, it doesn't automatically mean you're in love with them.
If there's any kind of dream that you'll wake up from feeling distressed, it's definitely a sex dream about an ex. Your brain dredging up a hot-and-heavy make-out session with your ex will probably bring a flush to your cheeks. Or maybe you'll wake up wondering why you dreamed about your ex-boo going down on you... and why you really enjoyed it. If not embarrassed, you'll probs just be annoyed by the fact that your ex always ruins everything, even REM sleep.
The first thing to do — after taking a cold shower — is to remember that dreams about having sex with your ex are normal, so don't panic. As life coach and wellness astrologer Stephanie Gailing tells Elite Daily, it's crucial to look at the entire picture. The answers don't just lie in "dream you" riding your ex — they lie in how that dream sex made you feel. "It's also, of course, important to take into consideration your current relationship status," she says. "Are you single? In a partnership? In numerous relationships? And what's the status of your sex life?"
Depending on your relationship status and how that X-rated dream made you feel, here's the low-down on what sex dreams mean when they star your ex.
While it's hard to know how to handle an ex-sex dream, you shoulld take your unconscious musings as an opportunity to re-evaluate your desires and how they look in your past and present. As Loewenberg previously told Elite Daily, these kinds of dreams might just be your subconscious saying now is the time to "rekindle the excitement in your intimate life." This dream is likely the result of a certain need of yours not being met in waking life. You just have to figure out what it is. "Once you take action on your dream's gentle nudging, and continue to change it up and keep it interesting, the ex won't need to pay you another visit," Loewenberg explained.
Remember: You're in charge of your waking life. You've just got to tune into what your dream world's trying to tell you.
Sources:
Stephanie Gailing, life coach and wellness astrologer
Lauri Loewenberg, dream analyst
Editor's Note: This story has been updated by Elite Daily Staff.
This article was originally published on