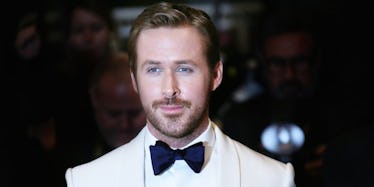 10 Times Ryan Gosling Deserved An Oscar Just For Existing
Shutterstock
ICYMI, Ryan Gosling — aka the greatest man on the planet — is nominated for his second Academy Award for his role in "La La Land." His first nomination was for his role in "Half Nelson" back in 2007.
This comes on the heels of his Golden Globes win for Best Actor in a Motion Picture, Comedy or Musical. And as always, he has young, beating hearts everywhere chanting, "Ryan! Ryan! Ryan!"
I have just a few, simple reasons why I think he should win the biggest award a male actor can get, and literally none of them have anything to do with his supreme acting ability.
Here's why Ryan Gosling is the greatest man on the planet and deserves any award, anywhere, for anything.
That time he was photoshopped, obviously.
Not that objectifying people is fine, I am JUST SAYING I can TOTALLY APPRECIATE this scene from "Crazy, Stupid, Love" and all the free sex dreams it gave me.
*Whispers off stage to producer* That's fine, right? I can say "sex dreams?"
Sex dreams.
That time he ruined anything romantic anyone else could ever say.
Ryan seriously stole ALL THE HEARTS in this scene from "The Notebook." It's my favorite love speech of all time.
And actually, can we just talk about "The Notebook" for, like, two quick seconds? It is possibly the greatest love story of all time with award-winning performances by both Gosling and Adams.
And actually... you know what... how can we get in touch with The Academy? Maybe we should just nominate this movie for Best Picture retroactively. Like, what do you guys think?
That time he had an awesome, haunted-themed band with a children's choir.
Swoon my freaking face off. Leave it to Ryan to be insanely multi-talented and somehow work children into the mix as well.
According to Wikipedia, Dead Man's Bones is a rock duo made up of Gosling and his friend, Zach Shields. Their first album is an entire collaboration with the Silverlake Conservatory Children's Choir, which was started by Red Hot Chili Peppers bassist, Flea.
I MEAN, COME ON.
That time he didn't want to eat his cereal.
Google "Ryan Gosling won't eat his cereal." Do it. Do it now.
It's an incredible series of Vines where Ryan is presented with a spoonful of cereal, but he just. does. not. want. it. And we love him more and more every time he pushes that damn spoon away.
Live your truth, Ry.
That time he broke up a fight while just, like, wearing a tank top.
Proving to be an actual knight in shining striped tank top, Ry-Guy took it upon himself to break up a street fight in NYC.
He should probably be rewarded for this, like, publicly. On stage. At an awards ceremony or something.
That time he loved his girlfriend Eva Mendes so freakin' much.
When he took home the Golden Globe for his performance in "La La Land," he dedicated his thank you speech to the love of his life, Eva Mendes, and their two daughters.
I couldn't handle it. Twitter couldn't handle it. No one could handle it. GIVE THIS MAN MORE AWARDS.
That time his viral "Hey girl" meme convinced you he was actually your boyfriend.
Hey. Hey, Ryan. Hey, boy. Ryan... hey. Hello, Ryan. Ryan, HEY... hi. Hi, Ryan... boy. Hi... hello, Boy. Hola, boy. Hola... aloha, Ryan... Ryan, aloha. RYAN!!!! ALOHA!!!! GOD DAMN IT. AHOLA, RYAN!!!!!
Ryan gave us the greatest meme of all time: the "Hey, girl" meme. It empowered women everywhere with his silky face and perfect words.
Now that I think about it, the meme should probably be its own award and have its own award show. Probably on MTV2.
That time he was like, 7, and sang "When A Man Loves A Woman."
TBH, it's a shame he didn't win an Oscar as a fetus. Clearly, he was a talented heartbreaker from day one, and we're all just lucky the internet exists so we don't have to miss a minute of his life.
Make sure you keep watching the above video passed the singing part because there is an AMAZING DANCE OFF TO BEHOLD.
In an interview on "The Graham Norton Show," he elaborates on his expert dancing skills, saying the costume in one of his now-viral dance recitals was his idea.
What a man.
That time he was in a hilarious t-shirt war with Macaulay Culkin.
EVERYONE LOVES A MAN WHO CAN TAKE A JOKE, RIGHT?! GUYS?!
That time he couldn't keep his shit together on "SNL."
In one of "SNL's" most iconic sketches of all time, our beloved Ryan co-starred alongside Kate McKinnon and Cecily Strong to stretch his comedy chops.
He just couldn't hold it together in the sketch, proving, yet again, he's just like so #normal, and #human, and #approachable and #deservesalltheawards.
And of course, that time Rachel McAdams was a bird, so he was a bird.
Need we say more, Academy?!
Congrats on your second Oscar nomination, Ry! We love you. Like, a lot.