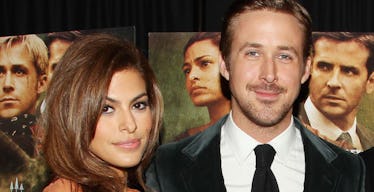 Eva Mendes Secretly Praised Ryan Gosling's Globes Speech And We All Missed It
REX/Shutterstock
One of the best parts of the Golden Globes on Sunday night, in my opinion, was when Ryan Gosling accepted his award for Best Actor in a Motion Picture.
I enjoyed the moment not only because Ryan is easy on the eyes, but because he delivered a beautiful and emotional speech for his wife.
In case you missed what Ryan Gosling had to say about Eva Mendes, check out the clip below.
He told the audience,
You don't get to be up here without standing on the shoulders of a mountain of people and there's just no time to thank everyone… I just would like to try to thank one person properly and say that while I was singing and dancing and playing piano and having one of the best experiences I've ever had on a film, my lady was raising our daughter, pregnant with our second and trying to help her brother fight his battle with cancer.
He continued,
If she hadn't of taken that all on so that I could have this experience, it would surely be someone else up here other than me today. So sweetheart, thank you.
Sweet, right? Eva Mendes has spoken in the past about how her brother's death affected her. In August, she got candid with Latina magazine about giving birth to her second daughter the same week her brother died. She said,
We had a funeral service for him and that same week I had the baby. So it was really, really intense and obviously beyond heartbreaking, but also kind of beautiful.
The 42-year-old mother of two actually responded to Gosling's big speech on Instagram, but no one noticed.
Eva Mendes added a photo of Janelle Monáe on the red carpet and commended her dress choice.
She captioned the photo,
Obviously this wasn't my favorite moment of the night....But it was definitely my favorite style moment of the night. The stunning and talented @janellemonae is killing me with this look. So so so beautiful  #goldenglobes
HMMMMMMM, EVA, WHAT WAS YOUR FAVORITE MOMENT THEN? Was it when your husband made the entire world cry by talking about your marriage?
Sneaky, sneaky, sneaky. We see you, Eva. We see you.
Citations: Eva Mendes Reacts To Ryan Gosling Speech (E Online)