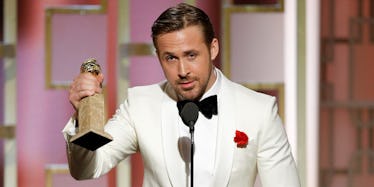 Ryan Gosling's Emotional Golden Globes Speech For Eva Mendes Will Make You Cry
REUTERS
Ryan Gosling stole the show at the 74th annual Golden Globes, and his acceptance speech will make you sob.
The 36-year-old actor took home the gold for his performance in "La La Land" and delivered an emotional message to his wife, Eva Mendes, in front of everyone.
Rather than thanking a long list of people who helped make this achievement possible, Gosling took the time to thank "one person properly."
He told the audience,
You don't get to be up here without standing on the shoulders of a mountain of people and there's just no time to thank everyone... I just would like to try to thank one person properly and say that while I was singing and dancing and playing piano and having one of the best experiences I've ever had on a film, my lady was raising our daughter, pregnant with our second and trying to help her brother fight his battle with cancer.
He continued,
If she hadn't of taken that all on so that I could have this experience, it would surely be someone else up here other than me today. So sweetheart, thank you.
RYAN GOSLING CALLED EVA MENDES "MY LADY" AND "SWEETHEART" IN THE SAME SPEECH. I AM DEAD. WE ARE ALL DEAD.
At the end of his speech, Gosling also had a sweet message for his daughters. He told them,
To my daughters Amada and Esmeralda, I love you.
He also dedicated his award to Eva Mendes' brother. He added,
And if I may, I'd like to dedicate this to the memory of [Eva's] brother, Juan Carlos Mendes.
I have chills, that was so emotional.
Obviously, people on Twitter lost it.
I mean, can you blame them? Ryan Gosling gave the sweetest speech of all time.
He's truly a gentleman. We are not worthy.
Eva Mendes, you're one lucky lady.