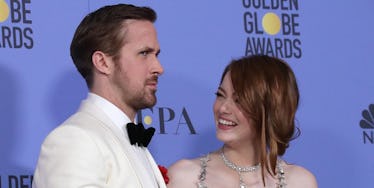 Ryan Gosling Couldn't Answer A Question About Love Because He Was Too Drunk
The coolest part about being a celebrity, in my opinion, is going to fancy parties where they serve unlimited free booze.
A bottle of wine is like, 12 dollars, so if I can get that shit for zero bucks, then count me in.
Ryan Gosling took advantage of the open bar at the Golden Globes, that's for sure.
The "La La Land" actor went HAM on the champagne and he got a little too tipsy to answer questions from the press.
A MAN AFTER MY OWN HEART.
While Ryan Gosling was in the media room with his co-stars and cast, someone asked him and Emma Stone to discuss "the love fantasy the film presents."
In the video above, you can see the actor and actress struggling to understand WTF the speaker is asking.
The entire time, Emma Stone is literally thinking, "Can somebody strangle me???? PLZ????"
Ryan Gosling also looks like he's about to pass out. He's definitely eight glasses deep at this point.
After a brief pause, the actor leaned into the microphone and said,
I've had too much champagne to answer that question.
UH, CLEARLY. I recognize those glazed-over eyeballs.  He looks like every man I made out with in college (except Ryan is a million times hotter and is prob still sober enough to remember my name).
Also, lmao, look at this guy.
Anyway, Ryan Gosling wasn't drunk during the ENTIRE awards show.
When he received the award for Best Actor, he delivered an emotional and touching acceptance speech and thanked his partner, Eva Mendes.
He told the audience,
You don't get to be up here without standing on the shoulders of a mountain of people and there's just no time to thank everyone… I just would like to try to thank one person properly and say that while I was singing and dancing and playing piano and having one of the best experiences I've ever had on a film, my lady was raising our daughter, pregnant with our second and trying to help her brother fight his battle with cancer.
He continued,
If she hadn't of taken that all on so that I could have this experience, it would surely be someone else up here other than me today. So, sweetheart, thank you.
This is so cute and everything but let's just replace "my lady" and sweetheart" with "Katie."
Haha, that's me. My name is Katie.
Love you, Ryan. Thanks for always making me smile. HEHEHE.
Citations: Ryan Gosling Drunk At Golden Globes (Harpers Bazaar)