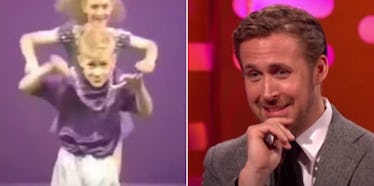 Ryan Gosling Cringes While Watching Adorable Old Dance Video Of Himself
YouTube
Ryan Gosling has been keeping a secret from us, and it's the fact he's a child dancing prodigy.
... I'm not kidding.
On top of his flawless acting skills and his ability to make women swoon at the crack of a smile, Gosling can tear up the dance floor like the freakin' swag king.
His dancing skills might not come as a shock if you've seen his latest movie, "La La Land," because the film showcases Gosling dancing side-by-side with Emma Stone -- and, boy, can they move.
But even for those who have already fallen witness to his talent on the dance floor, a newly released home video of young Gosling will definitely come as a shock.
On Friday night, the actor appeared on "The Graham Norton Show" with Emma Stone, Ben Affleck and Sienna Miller.
Apparently, Norton thought it'd be funny to bring up embarrassing past performances from each actor -- but the ghost he dug up from Gosling's past left the actor cringing.
In an adorable video shared by the talk show host, Gosling can be seen tearing up the dance floor as a kid with the Elite Dance Studio crew.
Trust me... you don't want to miss this.
Ryan! How could you have been hiding this from us this entire time?!
If Ryan Gosling didn't choose the acting path, he'd surely be a contestant on "Dancing with the Stars."
Regardless of how embarrassed he became upon watching the video on TV, he needs to admit: He had some serious dance moves.
Plus, check out those pants! I want a pair.
When asked how old he was during the performance, he replied,
Old enough to know better.
Gosling also noted how he was able to dance at the studio for free because he was a boy. He said,
If you had a guy, you would win.
Well, Ryan, you definitely won -- that's for sure.
Keep on groovin'.