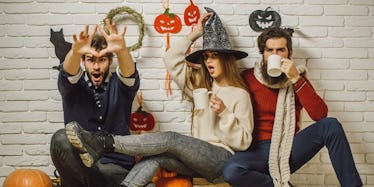 5 Quick, Creative Couples Costumes For The Pair Who Loves To Procrastinate
tverdohlib/Fotolia
There are two kinds of people: those who love Halloween, and those who don't. But I am firmly on the Halloween-obsessed side — October ride or die. But if you're anything like me, you wait to find a Halloween costume last minute, and as soon as Oct. 31 rolls around, you're searching for quick, creative couples costumes hours before the party you're supposed to go to that night begins.
What can I say? I just have so many ideas for costumes, and I change my mind so much that it becomes hard to actually pin anything down. And last minute, I end up with nothing... which is usually a disaster when I find out all of my friends have ordered elaborate, expensive costumes online.
But you know what? That's a waste of money. There are plenty of ways to get creative with your costume for cheap with supplies you have at home. Additionally, if you're dressing up with your significant other, finding and creating a costume together out of scratch can be a super fun bonding experience.
So here are five quick, creative couples costumes for the pair who loves to procrastinate. If you choose one of these, you'll definitely be the hit of the party. Or win a contest. Or something.
1. Nerds
Nerds are probably the easiest costume to do in a pinch with your partner. Essentially, you can wear any top and bottom you'd like. The key to the nerd costume is in the accessories. Add fake glasses, suspenders, and put pens or a calculator in your pocket. Carry around an old science book. Perhaps spice things up with a bowtie.
If you want to get fully into character, you can even shout math facts at people all night long, although, that might get you kicked out of any party that you go to.
2. Danny And Sandy From Grease
This costume is giving me chills, and they're multiplying. If you're looking for a costume that is super fun and will make you and your significant other look HOT, then this is it.
This couples costume requires that you and your partner wear tight black clothing, leather jackets, and have the best hair day of your life. Don't forget to sport high heels, red lips, and a dark smokey eye to really complete the look.
3. Mia And Vincent From Pulp Fiction
Dressing up as Mia and Vincent from Pulp Fiction is a great couples costume idea that will have you dancing all night long. For Vincent, you'll need a black suit and a bolo tie, which can most likely be found at a vintage store. For Mia, you need a short, black bob wig, a white button down shirt, black pants, and some blood pouring down your nose. Carry around a cigarette, wear a black bra under your shirt, and you're bound to be the hit of the party, as long as you both bring your dance moves along with you.
3. Wynona Rider And Christian Slater in Heathers
This couples costume is great, iconic, and can be made from clothing you already have. It only needs a few extras: like fake blood and a prop cigarette.
For Wynona, you'll need a blue shirt and a long, black and white skirt. Next, mess up your hair, smear some dirt on your face (ash or dark eye shadow will also work great), and get some fake blood to put around your mouth and cheeks. Finally, carry a prop cigarette, and you'll be indistinguishable from her character in the movie.
For Mr. Slater, you'll need a black vintage shirt, black jeans, and a black leather jacket. Mess up your hair, dirty up your face with ash and blood, and wrap your hand with gauze — because you messed it up being a complete psycho.
And voila! Now, you're one of the most badass (and craziest) couples in movie history.
4. The Cast From Stranger Things
This is a fun and topical costume from the TV show of the year that everyone loves. Plus, there are so many characters that it can be a couples costume or something you do with all your friends.
To be Eleven, you'll need a blonde wig (or you can go bald!), a pink dress, blue sweatshirt, backpack, and some Eggo waffles. For Wynona's character, you'll need a red and white-striped shirt, a green army jacket, and some Christmas lights. You can also carry around a cardboard sign with the letters of the alphabet to really drive the point home.
To be Dustin, you'll need a green shirt, khaki pants, a backpack, and a red, white, and blue trucker hat. (And a faint lisp — oh my God, he is so adorable.) Want to be Finn? Get a striped polo shirt, beige jacket, and ride around on a bike all night. Just make sure not to drink so much that you go into the upside down.
Emma Stone And Ryan Gosling In La La Land
From the most romantic movie of the year comes what is bound to be the most romantic and cutest couples costume of 2017. You'll need a yellow dress, while your partner dons black pants, a white shirt, and a tie. The one caveat to this costume is that you'll both need to hunt down some dancing shoes and potentially continue to make the famous La La Land pose all night long, so people know who you are.
Do you have any great couples costumes ideas? Sound off in the comments!
Check out the entire Gen Why series and other videos on Facebook and the Bustle app across Apple TV, Roku, and Amazon Fire TV.
Check out the "Best of Elite Daily" stream in the Bustle App for more stories just like this!