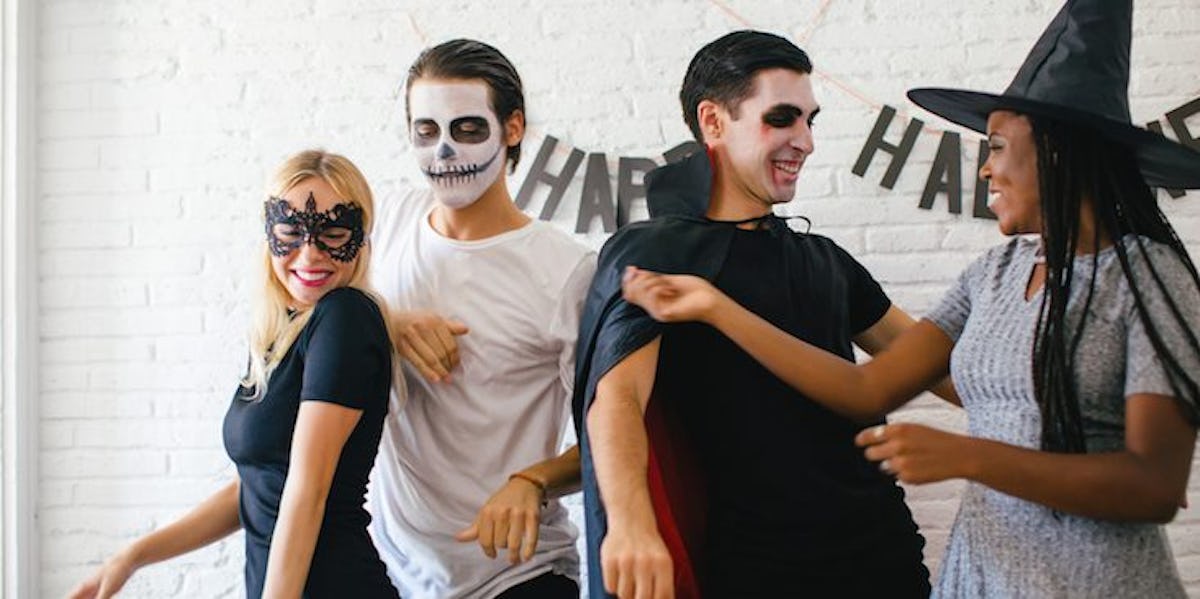 6 Clever Halloween Costume Ideas That'll Help You Win Any Costume Contest This Year
There is no greater holiday than Halloween, and I'm certain I cannot be convinced otherwise. Any time of year that combines candy, dressing up, and the chance to watch Hocus Pocus on cable every three days constitutes heaven in my book. The one struggle brought about by this spooky and delicious celebration? The costumes. Every year brings the great challenge of finding the perfect, clever Halloween costume idea that leaves all the other costumes in the dust. You want to be the person who walks into the Rosemary's Baby theme party, and before you can even reach the eyeball cupcakes, receive a torrent of compliments, and maybe, just maybe, induce someone to faint. Because you're just that scary and/or disgusting.
I mean, a girl can dream, right?
While it's not possible to hit a bulls-eye every year with your costume (I was once a poodle, for example), the truth is, you just have to continue putting your best foot forward. Look far and wide for inspiration, my friends. Whether it's the current political climate or a new take on some classic scary movie moments, your costume has to be original.
And hey, if all else fails, you can always cut two holes in a sheet and be a ghost. Such a classic.
1. Here's Johnny
Be one of the scariest moments in cinema history: the moment when Jack Torrance hacks through the wall in The Shining.
It still gives me the creeps just thinking about it.
2. The Solar Eclipse
One of 2017's happiest moments, wouldn't you say? We all came together to see it, and by God, we enjoyed it.
Take out those dusty eclipse glasses, and hang your very best cardboard moon-covers-the-sun interpretation around your neck.
3. Butt Her Emails
How about just a little bit of political humor on Halloween?
If, like me, you continue to roll your eyes every day at the current White House administration and their incessant preoccupation with Hillary Clinton's emails, all you have to do for this for pun-tastic costume is print a piece of paper that says "her emails" and tape it over the butt of your pants.
Let the heated, melodramatic political debates over Halloween cocktails begin.
4. Pennywise
Pennywise is the clown from IT, the book by Stephen King turned movie, then turned movie again. It's about a terrifying shapeshifting clown that lives in a gutter and preys on kids every 27 years.
Be warned, you will not be the only one who dresses up as this chillingly scary clown for Halloween this year. But trust me, you can still find your own ways to make your rendition of the costume scary as all freaking hell.
Plus, knowing that everyone and their mother will probably dress up as Pennywise just means you have to work that much harder to make your own kickass costume.
5. Your Favorite Emoji
Whether it's the wide-eyes face, the dove with the sprig of leaves, the purple crystal ball, or the very happy, smiling pile of poo, there are an endless amount of emojis to choose from for a Halloween costume.
Maybe show some appreciation for one that doesn't get used that often, like that beige mule slip-on that's relevant in just about no text conversations ever.
6. You Vs. The Guy She Told You Not To Worry About
The many variations of this meme never fail to make me giggle.
To make it work as a costume? Put on a super creepy monster mask, then write "Vs. The Guy" on the top of a t-shirt. But make sure you leave enough room to pin on a picture of your favorite smokin' hot celeb.
Time is running out to figure out your Halloween costume, my friends. Which clever idea will you choose?