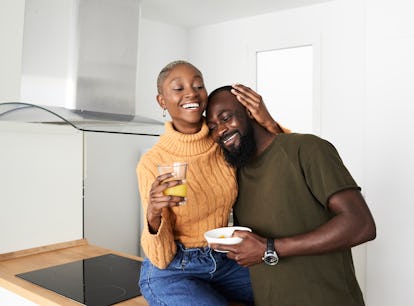 This Is Why Couples Baby Talk, According To Psychology
It's actually a sign of a healthy relationship.
By the time you're four or five years old, you're able to form full sentences and speak like an adult. It seems like you'd want to keep doing that forever — and yet, later in life, you may find yourself madly in love and talking like a baby once again. Sure, baby food is delicious (I just love good applesauce), but how many times have you heard a couple baby-talking in public and thought, "No, stop, please?" I wanted to know more, so I did some research to learn about the fascinating psychology behind baby talk in relationships.
Just so we're clear, talking like a baby isn't a disorder, and it's not the same thing as literally acting like a child. Even though it might be perceived as annoying for people outside the relationship, it's not a sign of immaturity. There are actually very legitimate biological and psychological reasons why you might engage in baby talk with your partner, and understanding them can help bring you closer together.
Read on to find out everything you ever wanted to know about the three little words: "I wuv you."
Sure, at first it can seem odd to have grown adults speaking to each other like infants, but there are very good reasons for doing so. "A couple's language and communication style is the majority of the relationship," Silva asserts. "It shapes behavioral outcomes, work-life management, conflict resolution, and is a predictor of relationship health." So, if you have the urge to tell your partner, "I wuv you so much" — don't hold back!
Experts:
Clarissa Silva, behavioral scientist
This article was originally published on