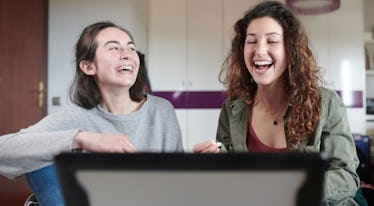 7 Lazy Ways To Impress Your Partner, Because It's Truly The Little Things That Count
When you're in a relationship, it's easy to feel like you need to make grand gestures to show your SO you love them all the time, but that's simply not true. There's no shame in finding "lazy" ways to impress your partner on the reg, because you putting in the effort is what your partner will appreciate the most. Thinking about the time you spend together and how you take care of each other can go a long way. So, with that being said, keeping some tried and true lazy ways you can impress your partner in your back pocket might just be a lifesaver for you and your relationship.
Honestly, one of the first things I learned in my relationship is that it's almost impossible to be 100 percent on all the time. I can't always look my best, and neither can my apartment. I want to impress my partner, but life gets in the way. You know what that's like: You get tired, you get run down, and you get exhausted, so it's hard to present your very best self to your partner at all times. But that's the thing: Your partner should love all versions of you, not just the one you put on display. Knowing this, they'll always appreciate the ways that you show your partner you care, even without having to put in too much effort. In fact, some of these tips don't even involve putting on pants or leaving the couch, so yeah, you're welcome.
Now, ready to learn how you can impress your partner while still being your awesome, lazy self? Read on.