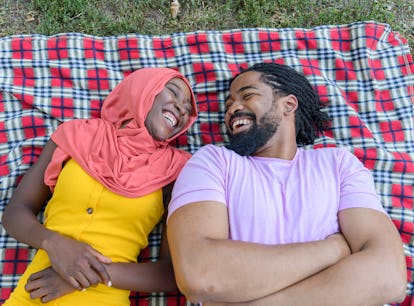 8 Date Ideas For Earth Signs Who Love The Great Outdoors
ProfessionalStudioImages/E+/Getty Images
I know what you're thinking: "Duh, earth signs love to be outside because they're earthy. Very clever." But the truth is, an earth sign's draw to the outdoors is more than a superficial matter of words. Of the four elements in the zodiac — fire, air, water, and earth — the latter has a reputation for groundedness. Earth signs (Taurus, Virgo, and Capricorn) are sensual creatures who are especially in touch with the energy of their surroundings.
Instead of a stuffy movie theater or a crowded restaurant, an earth sign will appreciate outdoor date ideas that offer special sensory experiences. An earth sign wants to smell salt air on the coast or fresh-cut grass at the park; they want to venture to a natural wonder that's exquisite to look at; they want to fill their ears with birdsong. Your pragmatic earth sign boo will not only think your outdoor date is super romantic, but they'll relish the opportunity to multitask: They get their daily exercise and a social engagement at the same time?! Heaven.
Plus, earth signs tend to be among the most loyal of the signs, so if you find yourself in a face-off with a grizzly bear on your first date, they're less likely to go running and screaming in the opposite direction unless you're right there with them. Read on for eight date ideas that will make any outdoorsy earth sign swoon.
Whatever date idea you decide to plan for your earth sign lover, know that they will appreciate anything you put genuine thought into. You don't have to spend a million dollars or take them on a lavish vacation to make them happy. All they need is you and the great outdoors.