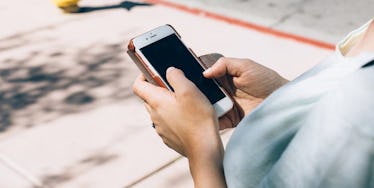 7 New Dating Apps To Try Out If Your Love Life Is Feeling Bleak As Ever
Summer is notoriously known as "uncuffing" season. The weather gets hot, you wear less clothing, and couples, for some reason, feel the need to break up.
What is it with 90-degree weather and people deciding they're not in love anymore?
Hookup season is also at its highest around this time, but so is your competition on dating apps. It can be rough out there. Every time I go to a pool party expecting to meet my soulmate, I usually end up hanging out next to the snack table, while my crush plays chicken in the pool with hot girls in bikinis. Such is life.
If you're feeling overwhelmed by the need for a summer romance or fling, I get it. Plus, every time you sign on Tinder or Bumble in the hopes of meeting someone through your phone, it's the same people over and over again.
Yep, we're all still single! Nice to see we're all still on here!
So this summer, if we're all going to be single and sweaty, it's time we give some new dating apps a try. Here are some you should download if your love life is feeling bleak as ever.
1. Dating AI
Always had a crush on Ron Weasley from Harry Potter? (Is that just a me thing?) Well, now, there's a dating app called Dating AI that will allow you to match with people who look like your favorite celebrity — whether that be, say, a red-headed wizard or someone more conventional like Liam Hemsworth.
First, you choose the celebrity you've always had a crush on from the built in database. There's also a second option, though: If you want to pay extra, you can upload a picture of an ex or unrequited love, and the app will only match you with people who look like him. Creeeeepy, but I like it.
Next, the app will pop up with your list of doppelgängers. You click on the person's face you're interested in, and you'll be redirected to the app that they're actually on.
So basically, Dating AI will help you find the most accurate matches on apps you might already have, like Tinder or Bumble.
(In my dream world, all my ex-boyfriends are uploading my face onto Dating AI because they aren't over me yet and want to date girls who look exactly like me in an attempt to recreate our relationship. Just saying!)
2. Bracket
Bracket dating app is trying to make dating fun again. Think: the fantasy football or March Madness of dating apps.
When you sign up for the app, you answer a few questions about your preferences — from age to favorite ice cream flavor. Then, each day, the app will automatically match you with 16 other users, which is great, because it takes all the swiping off your hands.
Then, throughout the day, those 16 users are put in a kind of love tournament, and when the winner is finally determined — a match who is truly perfect for you — you'll get to message one another.
Sounds super fun to me. It's time to shake up how we online date.
3. Tinder Gold
Yes, Tinder already exists, but it's rolling out a new service called Tinder Gold, with a super cool feature called "Likes You." Unfortunately, it's members only. But, it might just be worth splurging on.
Essentially, Tinder Gold and the "Likes You" feature tells you who has swiped right on you before you make any choice about them. The people who've already swiped right on you will have a special heart on their profiles, so you can decide to automatically match with them, or do the normal swipe left or learn more.
So if you're shy about making the first move, or just want to see if your crush or ex swiped right on you, then investing in Tinder Gold might be a good move.
4. First
First is actually a really cool idea. Instead of matching people by photo and then requiring endless conversation before a first date may or may not occur (you know how some people just want pen pals on dating apps), it actually matches you by the date ideas.
Let me explain.
For example, I say that I want to see a 5 p.m. showing of a certain movie. Then, eligible men will submit to join that date. Finally, I get to choose which man I want to accompany me, and I will accept his submission.
With no pre-conversations or exchanging numbers, you both show up to the date, and go from there. If you enjoy your time together, then you can exchange digits, start chatting, texting, and messaging, and planning more dates from there.
It's a good way to cut the BS that's often associated with messaging, and cut straight to what we're all here for — the actual dating.
5. Tastebuds
Tastebuds is an app that matches you with perspective partners based on your taste in music.
The questions on the app are all pretty much music based, and when you match with someone, you can either message them the normal way, or you can even send them a song.
Pretty cool, especially for me, who is still hoping that, one day, her crush will make her a playlist full of emo love songs.
6. Happn
By now, you've most likely heard about Happn. The dating app is half intriguing, half scary.
It starts off like any other dating app. You add your pictures, make a profile, and say what kinds of dates you're interested in going on. Then, the interesting part happens.
Happn uses GPS to track your movements. When you get close to another potential partner who has the Happn app, it will alert you of the match. If you like what you see, you can allow them to message you, and you can make a plan to meet up.
This app is one step in between online dating and meeting in real life. If you want to see what happens when fate helps you meet people through your phone, then Happn is the right app for you.
7. Sweatt
Fitness junkie? Then, Sweatt is definitely the app for you. Currently only available in New York (sorry), this app will match you with other health nuts based on your workout routines.
This is perfect for if you want to date people with similar lifestyles, because you know there's no way in hell you're going to want to date a couch potato if you're always at the gym.
So, if you're looking for some new apps to try out to improve your love life, give one of these a try. If you have any more suggestions, let me know in the comments!