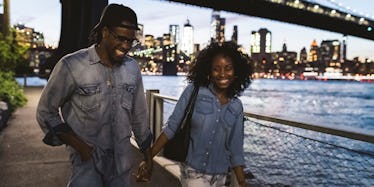 There's A New Dating App Where You Skip The Swiping And Go Straight To A First Date
Even when I was single, I was never really big on dating apps.
My main issue with them was that I felt like I'd swipe on a bunch of people, but then, I'd never actually make the move to go on a real date from there.
Even if I did make it far enough with someone to actually schedule a date, odds are, I was bailing on it at the last minute.
I'd always come back to the same conclusion: Why bother being on all these dating apps if they were never actually getting me dates?
Well, a new dating app called First takes things to a whole new level by cutting the BS and literally forcing you to get up and go on a date.
Rather than matching with someone, only to be stuck with a seemingly endless string of small talk (that will most likely result in nothing), First skips the whole prerequisite small-talk portion and goes right to the date.
How does it work?
Setting up your profile on the app couldn't be any easier. Like most other apps, you sync it to your Facebook profile, and boom, you're done.
From there, you can either post your very own date idea and time or scroll through date ideas and times other people have posted.
If you're the one who posted the date idea, you can now sit back, relax, and enjoy the show, as interested people of your preferred gender in your area submit to join you. Once you see someone you're also interested in, you accept their submission, and the two of you just show up for the date. NO STUPID BANTER ALLOWED.
No, seriously... even if you wanted to chat with them, the app doesn't give you the option.
On the flip side, if you're the person submitting for dates you're interested in, you can submit your interest up to four hours before the actual date is supposed to take place. From there, you too, can sit back, relax, and wait until someone accepts you to join them.
Then, once again, the two of you have no choice but to show up at the specific place at the set time.
Again, YOUR STUPID BANTER CAN GTFO OF HERE.
Now, what if something comes up and you have to bail? Well, you're kind of just screwed.
Bailing on a First date for any reason will have you marked as a no-show on the app. This is kind of a big deal since the app has a pretty strict "No Flakes" policy, which bans users after they acquire two no-shows.
In an attempt to weed out people who "aren't right for the app," the app's creator, 25-year-old Truman Kain, also lets users rate their dates once they're over.
Your date rating won't show up on your profile, but a few successful dates will result in a glowing check mark on your profile that "verifies" you as a good date.
Kain told Mashable that his hope with the app is to eliminate the inefficient process of speaking to someone for weeks, only to find out you have no chemistry in person. With First, you find out whether or not you have chemistry right off the bat. Then, you go from there.
Obviously, the thought of meeting up with a stranger you've never spoken to before to do a random activity isn't appealing to a lot of millennials.
But for people like myself who prefer in-person interactions to stupid banter that leads nowhere, this is pretty ideal.