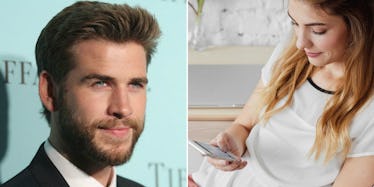 This New Dating App Finds You Matches Who Look Like Your Fav Celebrities
A new app called Dating AI has accomplished the impossible: It has found a way to let you date your favorite celebrities... kind of (but not really).
Instead of sifting through a sea of duds to find the one guy who's just your type, Dating AI searches through all of the different dating apps to show you only the people it knows you're going to think are hot.
How does it do that? Allow me to explain.
You start by uploading a picture of someone you find attractive.
When you enter the app, you'll see this home screen:
You can select a celebrity for free, or you can pay to upload a picture of a non-celebrity you're into (you know, if you're super hung up on your ex or something).
After you've picked your photo, the app will show you a list of look-alikes.
Once you've input the photo of the face you're into, the app will search through a bunch of different dating apps, from Bumble to Tinder to PlentyOfFish, to provide you with a comprehensive list of people whose profile photos resembled the one you uploaded.
For example, I chose Ryan Seacrest's face, and this is what the results screen looked like. The faces are blurred out to protect the identities of these real people who look a little like Ryan Seacrest.
From there, you can click on the profile of the person you're interested in and get redirected to the app their picture exists on.
If you're worried about the app's accuracy, don't be. BuzzFeed tried out the app, and they reported most of their matches were totally accurate doppelgangers.
Needless to say, other dating apps aren't super thrilled about this process, BuzzFeed reports.
A Tinder spokesperson told BuzzFeed that they have "contacted the developer to inform them that the app is violating our terms, and we have been told that they will address the issue."
In response to that, the app's founder, Heath Ahrens, told the news source, "We've been having a very productive conversation with them."
He also seems pretty chill when it comes to the fact that a rep from PlentyOfFish is reportedly making moves to have Dating AI, which has 15,000 users already, removed from the iTunes App store. Ahrens told BuzzFeed, "That's news to me."
Despite the drama surrounding it, you've gotta admit, the concept is pretty freaking cool. It's a more efficient way to use your dating apps.
If you're single, I'd suggest downloading the app and getting straight to profiles of people you're actually interested in.