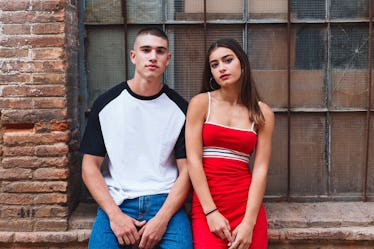 These 10 Incompatible Personality Type Pairings Probs Shouldn't Date
A Defender and a Campaigner are a disaster waiting to happen.
Let's face it: There are some people with whom you just "click," as if you fit together like perfect little puzzle pieces. Then there are the people who just leave you feeling totally puzzled, and chances are, dating one of those people would be a total disaster. While there are many ways to assess whether someone is a good match for you, the Myers-Briggs Type Indicator can provide powerful insight into the personalities with whom you're least and most compatible — and it can potentially help you avoid dating disasters.
Contrary to popular belief, compatibility is not about finding someone who syncs up with every one of your interests, or a total opposite who can help you achieve balance. Ultimately, compatibility depends on having some similarities but also having differences in other areas. Since the Myers-Briggs personality test can shed light on whether you're more into introversion/extroversion, intuition/sensing, feeling/thinking, and judging/perceiving, it's a handy resource for figure out who works well together.
And while the Myers-Briggs is essentially just a tool for evaluating someone's "innate preferences," as Poppy and Geoff Spencer, LCPC, previously told Bustle, knowing someone's Myers-Briggs personality type "is a huge plus when dating, especially when meeting first online." As they explained, "The upside to all of the types is that they are not set in stone; they are preferences. We can learn and grow in our relationships by our willingness to further develop our own inferior and less dominant traits."
Every MBTI type has their own quirks, but here are the types least likely to make a compatible match right off the bat.
It's important to note that while these Myers-Briggs types may not seem compatible for a variety of reasons, there are exceptions to every rule. Every individual is unique, and therefore, so is every relationship. Just because two people don't have a ton in common doesn't mean they can't have a healthy, happy relationship — as long as they can accept and learn from their differences, while also using them as an opportunity to seek out self-growth.
Experts:
Poppy and Geoff Spencer, LCPC, Myers-Briggs certified coaches
Editor's Note: This story has been updated by Elite Daily Staff.
This article was originally published on