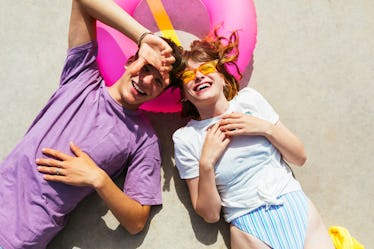 The Myers-Briggs Personality Type You Should Date, Based On Your Type
An Architect and a Logician are meant to be.
There are a plethora of ways to assess your compatibility with a potential bae. You could, for example, look for mutual interests and passions. You could also consider your zodiac sign, or compare your values and beliefs. However, experts have found that the Myers-Briggs assessment offers even more insight into your ideal matches — and knowing the most compatible Myers-Briggs personality types may help you find your perfect mate.
The Myers-Briggs Type Indicator is based on four main factors: Introversion/Extroversion, Intuition/Sensing, Feeling/Thinking, and Judging/Perceiving, making for 16 distinct personality archetypes. The fewer qualities you share with someone, the less likely you are to be compatible (though there are, of course, exceptions to this). Opposites can and do attract, and sometimes, people who share all four qualities are still far from an ideal match. But when it comes to relationship compatibility, some Myer-Briggs personality types pairs just click.
Every single MBTI type has their own quirks, of course, but it seems certain types are just better suited to balancing them out, fulfilling their needs, and making them feel loved. Not sure what your personality type is? Take the test to find out. Based on your Myers-Briggs personality type, here's the "type" of person who likely complements you best.
It's important to note that there is no such thing as a formula for a perfect pairing — and as much as knowing your MBTI type might be super helpful and informative in regards to your dating life, every person is entirely unique. The best thing you can do is understand what your type says about your relationship needs, and while seeking out people who fulfill those, stay open-minded. Because who knows? You may be surprised by which personality type brings out the best in you, no matter what Myers-Briggs compatibility says.
Editor's Note: This story has been updated by Elite Daily Staff.
This article was originally published on