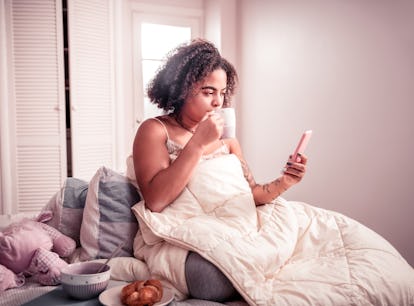 40 Memes To Text Your Friends About Dating That Are #RelatableContent
"Literally me." — Me @ all of these memes.
Shutterstock
Although living in the #Instagram #era may come with some downsides (I 100% choose my outfit based on whether my photo will be getting taken), having the power of the internet behind you can sometimes be a saving grace. Whether your photo album is full of Tinder bio screenshots or you and your pals love to tag one another in funny posts, these 40 memes about dating are the perfect thing to throw in your group chat.
Although dating can be very exciting, there's a lot that goes on behind the scenes. Cue: me scanning my old linguistics textbook to unpack the difference between "yea" and "yeah." Whether you try on 90 outfits before a date or you're always thinking about what a text really meant, laughing with your friends about dating drama can be the perfect way to break any romance-related tension. Your friends love you and are totally there for you through all your relationship journeys, and although having a romantic partner can be a lovely source of support in your life, sometimes there's nothing like gabbing with a group of your besties.
Here are 40 memes about dating that will literally make you @ yourself (and probs making dating seem a little less #bleak).
Don't get me wrong, sometimes dating is cute and fun, but other times, dating makes me want to pull a Jane Goodall and go live with chimpanzees. Of course, laughing with your friends can be the best remedy. If you've just been on a terrible date or if you're getting tired "putting yourself out there," sometimes a meme can say everything you mean.
This article was originally published on