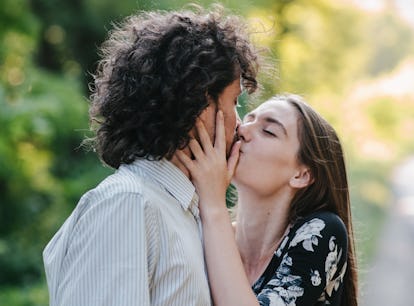 These 33 IG Captions About Love Capture The Butterflies You're Feeling
"I'd walk through fire for you, just let me adore you." — Harry Styles
Vuk Saric/E+/Getty Images
Sometimes an Instagram post is only as good as its caption. You could share the cutest photo ever of you and your partner, but if you really want to rack up engagement, you'll need more than just a heart emoji to go along with it. Of course, coming up with a caption that says "I love you" without making any of your followers roll their eyes is never easy. The best love captions for Instagram to go with your adorable couple pic are usually short, sweet, and clever — so for the sake of your followers, save your sappy soliloquy for your next anniversary card.
Whether you want to tell the world, "j'adore mon amour," in a way that's quippy, cute, or just a touch corny, there are plenty of Insta captions for you to use — you just might need some fresh inspiration to find the right one. From music, to books, to TV and movies, you can find top tier IG caption inspo just about anywhere, and these captions can take your loved-up pic with your partner from amateur to influencer. Before you share that next stellar snapshot of you and your soulmate on social media, try pairing it with one of these love captions for Instagram to take your posting game to the next level.
If you're in love, don't be afraid to let everyone know. And if you use one of these love captions for Instagram, they're bound to get the likes flowing in.
This article was originally published on