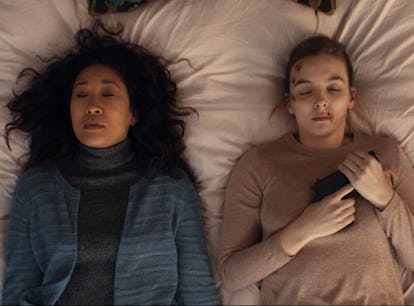 These Last-Minute Lesbian Couples Costumes Will Still Win Halloween
No, you don't have to just go as Brittana again.
BBC
Relationships are all about balance: One person, for example, has to obsess over each and every Halloween plan and costume, while the other forgets about the holiday altogether until the last few days of October. But sometimes, by some fluke of nature, two people from the latter camp fall for each other. Suddenly, you're days away from Oct. 31, everyone's asking about your cute couples costume, and you have nothing.
But you and your partner don't have to resign yourselves to an entire weekend of staying in and watching horror movies in your pajamas. (And you definitely don't have to celebrate the holiday without a costume at all). These DIY lesbian couples costumes are innovative, cute, and easy to piece together with just a moment's notice. You might have to ask around for a few staples, but as long as you're willing to dig around and get creative, you can still dress up as your favorite TV girlfriends, wear something unforgettable, and win every costume contest.
So before you run to your local Spirit Halloween or repurpose your San Junipero costume from last year, check out this list — and then your closet. I promise, no one will be able to tell you two weren't planning this for weeks.
And hey, if all else fails, you can always reach for those loose-fitting jeans and dress up as an extra from the original L Word. There's nothing spookier than some of that show's sartorial choices.