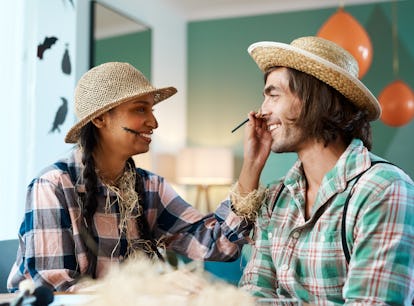 30 Couples Costumes Ideas For Halloween 2021 To Give You Inspo
Just wait until you see #13.
PeopleImages/E+/Getty Images
Choosing a couples costume for Halloween 2021 is almost too easy. There's no shortage of iconic couples to pick from, whether you're in the mood to emulate red carpet A-listers or pop culture icons. Really, the hardest part is narrowing down the list to one (or two or three) costumes, depending on how packed your holiday calendar is.
And, considering last year's Halloween celebrations were seriously limited thanks to the ongoing coronavirus pandemic, chances are you've got high hopes this time around. (I definitely do.) Although I can't promise that all of your wildest Halloween dreams will come true, I can tell you that a clever couples costume is the simplest way to get start your night off on the right foot. Whether you are still re-watching Schitt's Creek on repeat or fawning over famous couples' Met Gala debuts, you can find a Halloween couples costume that's perfect for you and your SO. And, no, I'm not tricking you.
Whatever you and your partner have planned for Oct. 31 — whether it's trick or treating, partying, or Netflix and chilling — this list of couples costumes can ensure sure that you are dressed for the festivities, frights and all.
No matter what you have planned for Halloween, a clever costume is essential. And is there anything sweeter than dressing up with your SO? That said, looking out for a couples costume that suits your relationship (or your current closet) is a smart idea. The good news: There's no shortage of iconic couples, characters, and iconic duos to emulate your costume after.