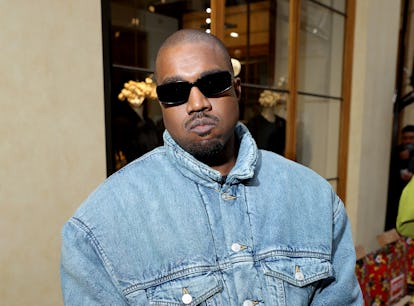 Wow, Kanye West And Chaney Jones' Relationship Timeline Is Intense
But would she consider herself Ye's muse?
Victor Boyko/Getty Images Entertainment/Getty Images
Kanye "Ye" West and Chaney Jones have been spending a lot (like, a lot) of February together, and their relationship timeline (so far!) is pretty intense. The duo was first spotted together on Feb. 1, while Ye was still very publicly dating Julia Fox. Since then, Ye and the Kim Kardashian lookalike have been growing closer with regular, fabulous dates in LA and Miami.
Suffice to say, things are moving quickly for the two of them, but it seems like that may just be Ye's style. Still, it doesn't sound like things will be getting too serious between them just yet. Ye is still in the midst of a contentious and highly-publicized divorce battle with Kim, and his Instagram posts make it clear that he hasn't fully moved on. Now, I'm not sold on finding closure with your ex while dating her clone, but it seems like that's exactly what Ye is trying to do (results still pending).
As for Chaney, she seems to be simply enjoying the ride. "She's having fun hanging out with him and enjoying all the cool things they're doing together," an insider told Entertainment Tonight on Feb. 28. Those cool things include: two Donda 2 listening parties and the screening of his biopic Jeen-Yuhs. So, yeah, it's safe to say Chaney's becoming well-versed in the subject of Ye.
Though there's no telling where their romance will go, here's Ye and Chaney's relationship timeline so far.
It certainly looks like Ye and Chaney are still having fun together. And considering they're only a few months in to their relationship, what more could you really want — besides a collection of Birkin bags (obviously)?
This article was originally published on