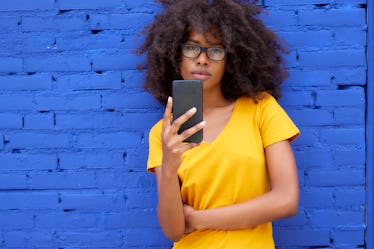 Here Are 15 Chill Rejection Texts To Send If You Just Wanna Be Friends
Letting someone down with tact and honesty is key.
Westend61/Westend61/Getty Images
As clichéd as it may sound, sometimes you meet someone and know right away you're better off as "just friends." While it might seem daunting at first, letting someone know that you think you'd be better off as pals is actually super mature. It means you knew yourself well enough to recognize that the good energy, convos that flowed easily, and shared taste in music would be a perfect foundation for a platonic relationship — but not a romantic one. Good for you! Now the next step is figuring out how to tell someone you just want to be friends.
When it comes to rejection texts to send if you want to be friends, you've got to strike the right balance. You'll want to be straight-up (so there's no room for confusion) and civil enough to leave the door open for friendship. As dating coach Erika Ettin previously told Elite Daily, "The two keys are tact and honesty when letting someone down. While someone might be disappointed that you don't want to go out again, [they] can't really be angry at you for feeling, or not feeling, how you do."
If you're not sure how to tell someone you want to be friends through text, then here are some messages you can use to reject someone gently after the first date — while still sparking a potential friendship.
The biggest thing to keep in mind when crafting this text is say what you'd want to hear if you were on the receiving end of it. "Ideally, you want to treat others the way you want to be treated," Dr. Edelman said. "It's one way we can all make the world a better place." Trying to figure out how to tell a guy you just want to be friends can be tough, but as long as you do it with tact and honesty, then you can't go wrong.
Experts:
Erika Ettin, dating coach
Dr. Susan Edelman, psychiatrist
Editor's Note: This story has been updated by Elite Daily Staff.
This article was originally published on