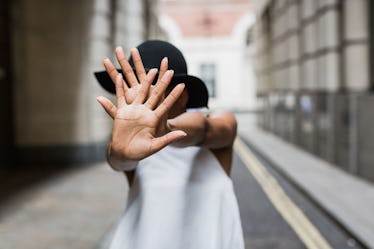 Here's How Experts Suggest You Gracefully Reject Someone, & It's Not That Difficult
Being rejected can be a tough pill to swallow. It hurts and it can be really embarrassing for some. But here's the thing: Doing the rejecting is actually not so great either. It can feel painfully awkward, high-pressure, and you're probably worried about hurting the other person's feelings. Not to mention, sometimes people don't take rejection well — and that could put you in an even more difficult position. It's tough all around, but here's the good news: There are actually ways to gracefully reject someone if you're not interested but want to pass on their advances politely, and firmly at the same time. Sounds great, right?
To help with this, I reached out to relationship experts and asked how to best go about letting someone know you're not interested in them. "The two keys are tact and honesty when letting someone down," Erika Ettin, dating coach and founder of A Little Nudge, tells Elite Daily. "While someone might be disappointed that you don't want to go out again, he or she can't really be angry at you for feeling, or not feeling, how you do," she says. Great, but how do you put that advice into practice? Here's what the experts recommend when you want to let someone down easily.