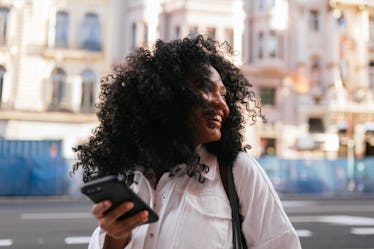 25 Starter Questions To DM Your Crush That'll Get The Convo Going
"OK, I just have to know... What is your Hogwarts house?"
When you're crushing hard on someone, social media can provide a slew of perks. Not only are you privy to more pics of the object of your affection, but you're also exposed to a wealth of useful info about them — and those deets can come in handy when you want to strike up a convo. Best of all, social networks offer a casual, convenient way of getting in touch with someone you like. The problem is you may not know how to DM your crush or what to say, and having some good starter questions is the key to getting off on the right foot.
A question is without a doubt the most effective way to reach out when messaging someone via DM, whether on Instagram, Snapchat, or another platform entirely. After all, a thoughtful question is more likely to encourage your crush to respond than a mere comment or observation, and it also provides a valuable opportunity to get to know them better. But since this may be one of your first social media exchanges, you'll want to be strategic about your DM conversation starters and what you ask. What platform you're using could also factor into what you say, because what to DM your crush on Instagram may be different than what you say on TikTok.
As a general rule, the best questions to DM are also short, generally lighthearted, and show your interest to some degree, no matter how subtle. It's also a good idea to ask open-ended questions whenever possible, as they'll likely inspire a longer response (and thus potentially spark a deeper conversation) than yes-or-no questions. Still at a loss for words? Fret not — these 25 DM conversation starters are pretty much foolproof for getting the digital sparks flying.
Don't be afraid to tweak these questions and make them your own, either. The more you can personalize the question to your crush's interests, or the nature of your connection, the better. Just remember: Ain't no shame in your DM-sliding game. You could be just one well-crafted question away from winning over the object of your affection.
Editor's Note: This story has been updated by Elite Daily Staff.
This article was originally published on