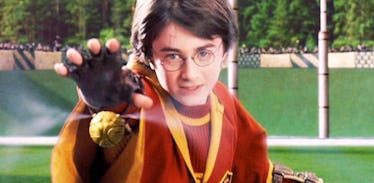 This Golden Snitch Engagement Ring Is What 'Harry Potter' Fans' Dreams Are Made Of
Warner Bros.
Just when you think your dreams can't get any bigger, someone goes and invents a "Harry Potter" engagement ring, and it's — dare I say it — magical.
This beautiful diamond and rose gold band is the creation of Sapphire Studio Designs and features a gorgeous bauble flanked by two shiny "wings," symbolizing the Golden Snitch from the "Harry Potter" series.
Without going into extreme detail and writing a 1,000-word essay on the intricacies of the game Quidditch, all you need to know is that the Golden Snitch is a tiny, mystical, flying ball that zips around the Quidditch field.
If the player (called the "Seeker") catches it, the game is over, and that player's team wins.
Basically, it's a perfect metaphor for seeking, finding and catching true love.
UGH. POETRY.
The engagement ring design boasts a 1.4-carat diamond set in 14-carat, two-tone rose gold, and honestly, it's as much of a piece of art as the "Harry Potter" series itself.
Arguably, even if you aren't a diehard Potterhead, this ring is still just as stunning without knowing the story or symbolism behind it.
Somehow both a shiny spectacle and simple piece of elegance, the classic look of a center rock paired with the details of cascading wings makes this ring perfect for both a traditional and modern bride.
Sapphire Studios explains on their website,
Sapphire Studios is global creative jewellery design studio specialising in custom-designed and alternative engagement rings. Our vision is that your rings are wearable art; they should speak of who you are and how you see yourself. Your ring should be as one of a kind and unique as you are.
If you are "Harry Potter" crazy, but looking for a different spin, the company has also created this equally gorgeous Deathly Hallows ring, toting 0.7 carats of diamonds and comes in gold, sterling silver or rose gold.
OBVIOUSLY, if you read the books (and remember "The Tale of the Three Brothers"), you know the triangle represents the invisibility cloak, the circle diamond represents the resurrection stone and the line down the middle is — obviously, dear Potterhead — the elder wand.
However, if you don't read the books, all you really need to know is DIAMONDS, LOVE, WEDDINGS.
The moral of the story is, whoever receives this ring will certainly live happily ever after.
Citations: This Harry Potter Golden Snitch engagement ring is making us shout ACCIO! (Cosmopolitan)