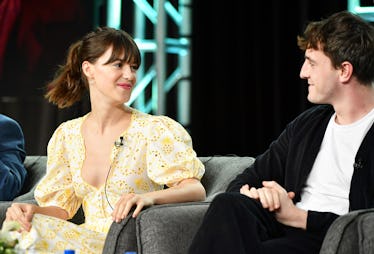 These 8 Halloween Couples Costumes Are Inspired By Your Fave Hulu Shows
Marianne and Connell, anyone?
Amy Sussman/Getty Images Entertainment/Getty Images
What's the only thing better than curling up with your partner and your favorite Hulu show? Dressing up with your partner as your favorite Hulu show, of course. Halloween season isn't all just pumpkin spice and everything nice; this time of year is an invitation for you to throw on a costume and revel in your obsessions, very much including whatever teen drama you've been streaming non-stop. Whether you and your boo go as Eve Polastri and Villanelle from Killing Eve or Rob and Clyde from High Fidelity, Hulu has no shortage of iconic couples to inspire this year's couples Halloween costume.
If the onset of the fall season has you feeling romantic and dreamy, your couples costume should be Marianne and Connell, all the way. If you're feeling spooky, dark, and a little bit mischievous, characters from Handmaid's Tale or Cruel Summer might be more up your alley. Goofballs and class clowns can turn to Pen15 for all the inspiration they'd ever need to craft an award-winning outfit. Finally, all that Hulu-and-chill-ing together is finally paying off.
Read on for eight couples costumes inspired by your all-time fave Hulu series.
Hulu is a truly bottomless pit of entertainment, giving the world endless TV couples to emulate this Halloween. To find the one that's right for you, snuggle up with your love and get busy streaming. You know, for research purposes.