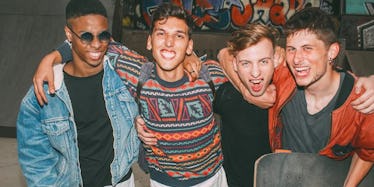 Guys Reveal Why They're Staying Single Forever: 'Why Would I Settle With Just One?'
Some would say that by a certain age, people start to feel an itch to settle down and tie the knot, moving from "bachelor" status to "settled down with a family" status.
The urge to swipe left and right all day suddenly starts to feel boring and empty, while the urge to date with purpose suddenly starts to feel right.
But not everyone gets that itch. Some people plan to stay single forever, no matter what perfect match might come their way.
Wondering why? Here's why these eight guys plan to fly solo for as long as they can:
1. I want to be rich.
Marriage, a wife and kids all cost so much money. I'm not dumb. I see how much my friends pay, and it's, like, literally insane. I'm not about that life, would rather be a rich bachelor who spends money on houses, cars, vacations and strippers.
— Craig S., 32
2. Why settle?
There are so many ways to meet girls these days with all the dating apps out there. Like, why would I settle with just one? I'm so down to meet as many girls as I can for the rest of my life and just have fun.
— Adam F., 23
3. I'm not stupid.
Marriage usually ends in divorce because it's unnatural to be with just one person. I'm not stupid, and I'm not going to waste my time going through the motions of getting married, fighting, not having sex and spending a ton of money on a divorce. Bye, Felicia!
— Rick S., 24
4. Relationships are hard.
Honestly, I think relationships are the hardest things in the world. Every time I've been in a serious relationship, I've had panic attacks trying to figure out how to keep the relationship going strong. I couldn't imagine how tolling marriage would be on my body and mind.
— David C., 34
5. I like dating around.
I like dating a girl for a few months (nothing serious) and then starting the process over with another girl. I've always had the reputation of being a player and dating around. I'm not looking to delete that and settle down.
— Michal Z.,  36
6. I want to do my own thing.
I view marriage as a pair of handcuffs. Like, every decision has to be shared. I want to do my own thing and not have to run everything by another person for the rest of my life.
— Peter M., 26
7. I don't believe in marriage.
My parents got divorced when I was 15, and it was ultra messy. They don't speak now. A lot of my friends had parents who were divorced, too. I just don't believe in marriage and don't want to go through what my parents went through.
— Brett L., 27
8. I'm not into having kids.
Every girl I date wants to get married and have kids. I'd be OK with marriage, but I do not ever want kids. Every girl I tell that to wants to end our relationship unless I change my mind.
— Chris S., 23