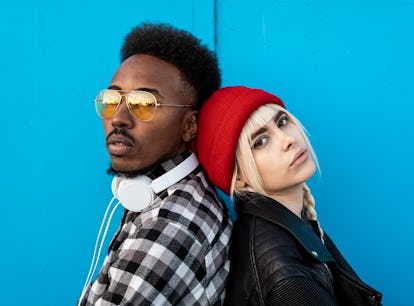 Here Are 7 Signs You're Falling Out Of Love, According To Experts
Sick of that same ol' love? Then these signs should sound familiar.
Westend61/Westend61/Getty Images
Have you ever looked over at your partner who you love dearly and thought, "Ugh" — but then immediately started panicking because you're not sure what that moment of apathy meant? How could someone with whom you were once crazy in love suddenly leave you with an emotional flatline, or worse, disdain? Does that mean the relationship is over? Are you going to have to break up? Falling out of love with someone can be pretty devastating, and while it's not always easy to recognize when this is happening, there are a few signs you'll notice when you fall out of love.
While the differences may be subtle, there is a distinction between being in a rough patch and falling out of love. If you're experiencing the former, then you probably feel still a desire to make things work. However, if it's the latter, then you'll likely feel more resigned than resentful. As NYC relationship expert Susan Winter previously told Elite Daily, "You find yourself walking through the motions of being a partner. Dialogue with your mate is on autopilot, and you're not really paying attention to anything they're saying. Mentally, you've checked out."
If you've fallen out of love with your partner, then these signs will likely sound familiar.
Navigating these confusing emotions can be painful, but there is power in understanding your emotional needs. You deserve real, lasting love, not just love that once existed but has since faded away.
Sources:
Susan Winter, relationship expert and bestselling author
Cherlyn Chong, dating and breakup recovery coach
Experts:
Nicole Richardson, licensed marriage and family therapist
Dr. LeslieBeth Wish, licensed clinical psychotherapist
Dr. Joshua Klapow, clinical psychologist
Editor's Note: This story has been updated by Elite Daily Staff.
This article was originally published on