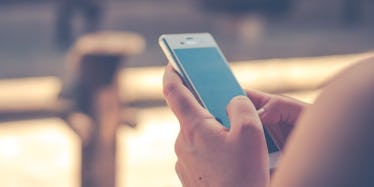 5 Things You Do On Dating Apps That Are To Blame For Your Nonexistent Love Life
Pixabay/Pexels
I recently matched with a guy on Bumble and messaged him saying, "I'm so excited to start our new life together!"
It has been five hours, and so far, he hasn't messaged me back. I don't think he's going to.
When it comes to dating apps, I know I'm to blame for my nonexistent love life. My profile is incomplete (I don't have a bio), and all of my photos are essentially of me scowling. One of my pictures is also of Mrs. Doubtfire, but that's an entirely different story.
From my profile, it looks like I'm an unhappy person who doesn't take dating seriously. So why would anyone take me seriously? I get a lot of right swipes (read: I am hot, OK?), but I don't get that many dates, and I certainly don't get into many relationships.
So you can hopefully fix where you're going wrong, here are some common mistakes you might be making on dating apps that can make your love life a barren wasteland.
1. You're Closed-Minded
"Only swipe right if you're over 6-foot!"
"You better be employed, or don't think about trying to talk to me!"
"I'm not trying to date someone with kids, thanks!"
Well, newsflash: The love of your life might be 5'9". He could even be a single dad. Brad Pitt is currently a single dad. Are you gonna swipe left on Brad Pitt?
I didn't think so.
What if you were swiping on guys, and someone's bio said "Brunettes are gross, no thanks!" Even if you were a blonde, you'd probably swipe left on this person anyway, just because they seem judgmental and negative.
You shouldn't list the physical requirements you want in a man on your bio. This isn't a beauty pageant. Just swipe accordingly.
2. Your Photos Are Lame
In every single one of my Bumble photos, I am frowning and wearing a hat. One day, my best guy friend looked at my pictures and said to me, "In real life, you are one of the happiest people I know, and also, I have literally never seen you wear a hat before."
And it's true. My dating app photos were totally not a reflection of who I was in real life. They weren't authentic, so I wasn't attracting people who I actually got along with. I was summoning guys who liked pouty, hat-wearing girls, not smiling, non-hat wearing ones, you know?
If you want to actually find a compatible partner, make sure you have an authentic profile that represents the real you. And for God's sake, smile a bit. People like being around other happy people.
3. You Don't Connect Emotionally
It's easy to keep things fun and flirty on dating apps, but also, it's a bit different if you're looking for someone you're emotionally compatible with, not just witty rapport with a stranger.
If you keep the conversation on the surface, it will likely die out eventually. But there are ways to prevent that.
It's an easy system: Flirt for the first few messages, then ask something personal about family, favorite television shows, or where your match grew up. Then, you can move the conversation from the app to real life.
If you're looking for an actual partner, it's important to get emotionally vulnerable with them. They already think you're hot. Show off your personality and authenticity, too.
4. You Don't Move From Online To IRL
If you stay chatting on the app for too long, the only thing you're going to get is a pen pal.
After a few messages, it's important to actually solidify a date, or at least exchange numbers, so you move on to texting.
Full disclosure: I've been messaging a guy on Tinder for, like, five years because neither of us has the courage to say, "Hey, do you want to get coffee?"
Don't be me. Exchange numbers quickly. Go out for coffee.
5. Your Profile Isn't Unique
There are 50-thousand-billion people on dating apps. (I made that number up.)
So if your profile isn't unique, it'll be impossible to differentiate yourself from anyone else.
Make sure your bio is complete and gives a sense of your personality, whether it highlights one of your passions, links to your social media, or is just plain funny. (Actually be funny, though. Quoting Anchorman or something is not funny.)
Have an assortment of photos that are both authentic to you, and that give a good sense of what your day-to-day life is.
If you really want your profile to stick out, maybe include a baby photo or something funny as one of your pictures. (Again, I have Mrs. Doubtfire as one of mine, and I maintain that this works.)
If things aren't working for you when it comes to finding romance online, try revamping your profile, and see if that does the trick.