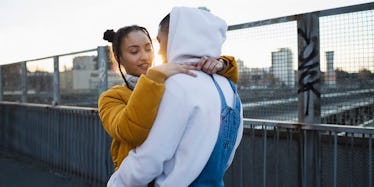 6 Things Your BF Does That Seem 'Crazy,' But Mean He's In Love With You
Back in 2014, one of my favorite musicians of all time, TI, was involved in a heavily publicized brawl with the UNDEFEATED, undisputed middleweight boxing champion of the world, Floyd Mayweather.
The multi-platinum selling rapper didn't hesitate to physically accost the best pound-for-pound fighter in the world... in the name of love.
The rapper's beef with Floyd was over Floyd's alleged dealings with TI's wife, Tiny Harris. The rapper didn't approve of the boxer's friendship with his wife.
So, after TI asked Floyd to kindly refrain from contacting his wife, the champ kept on. TI took matters into his own hands... literally. This resulted in an all-out brawl at a Las Vegas diner.
TI's track record shows he was never really one to back down from a fight with anybody.
But most people thought TI had crossed over to the realm of outright craziness when he approached the world champion fighter in Las Vegas without thinking twice.
But I don't think TI was crazy at all. In fact, I find TI's actions to be quite in the realm of a normal man in love.
I am by no means here to condone violence. But I would say if your man isn't willing to fight a world champion boxer for you, get a new man.
OK, it doesn't have to be that extreme... but love isn't a rational state all the time. It's usually the women who tend to get a bad rap for being irrational, but men aren't immune to acting out either.
Love will do that to anybody. Hopefully, however, there are mechanisms like ego, pride and maturity in place to keep us from going to extremes.
Here are six everyday things your man does when he's in love that might make you think he's crazy:
1. He likes you better without makeup.
Let me just get this one out of the way.
I can't believe I actually even have to say this, but I've heard women swear their men just want them NOT to wear makeup so other men won't find them attractive.
Contrarily, however, some (maybe even most) of us are attracted to women in their simplest, most natural state. You know, that whole natural beauty thing?
And just let it be known, I'm not makeup shaming in the least bit. Feel free to apply all the lipstick, contour and eye stuff your heart desires.
But just keep in mind you're not doing it for us. If he loves you when you feel you're at your worst, please believe it's coming from a genuine place.
And it's not some sinister plot to keep the world from seeing you in all your made up splendor, just so we can have you all to ourselves.
2. He starts "arguments."
I use that word very loosely here. Sometimes, discussions he feels need to be had may turn into heated ones because you feel like they didn't need to happen in the first place.
You may think he's being extra when he brings up your friend who's always getting shitfaced at parties, therefore putting you in a potentially dicey situation. But in all reality, he'd actually be remiss if he didn't say anything.
He's not picking a fight; he's expressing rightful concern about something in the hopes you guys can come to an understanding that could potentially curb further conflicts down the line. I mean, you have no problem letting him know just how you feel every time he forgets to drop the damn toilet seat.
However, sometimes, it's easy to think nothing is supposed to bother us as men... or at the very least, that we're supposed to act like it.
Many times, we keep things to ourselves that need to be expressed for the sake of preserving something we care about... namely, our relationship.
3. He always entertains your fights.
The woman is always right... or so they say. Sometimes, it's easy for us as men to just throw our hands up and concede defeat in an argument.
As a matter of fact, conventional wisdom tells us this is the best course of action in order to avoid severe long-term headaches. Besides, when you actually decide to let her know how wrong she is, you become the bad guy. Welp.
Sometimes, as a man, you just have to be the villain. If he takes time to defend himself – and maybe even (gasp) slightly raises his voice because he's emotionally invested in the situation – he loves you.
It's not necessarily because he has some deep underlying issues.
4. He blows up your phone.
So you just ran out the door, and he doesn't know where you went.
That's cool? No.
Yes, you might have just gone to your friend's house to cool down, but putting your phone on silent while he's left to worry you're with some random guy is not cool.
Love can make anyone anxious. Those 20 missed calls don't mean he's crazy; they mean he wants to know you're OK and not finding solace in some slimebag in sheep's clothing.
Just pick up the phone.
5. He's "clingy."
I hate this word with a passion.
He always wants to be in your presence whenever he has free time. He chooses to hang out with you over the boys.
I'm not sure why this is a problem, but apparently it is.
Now, there is such a thing as balance. So hopefully, he has other things going for him like a job, businesses or a hobby or two.
But if he wants to spend a great deal of time with you – his GIRLFRIEND – don't label him as "clingy."
6. He gets jealous.
Jay Z once said jealousy is a "female trait," but that couldn't be further from the truth. Jealousy is a HUMAN trait, and we've all been there.
How we choose to handle jealousy is what defines us. Quite frankly, if he doesn't get jealous at all, you need to be worried.
He's not chill; he's more likely just not that into you.
Test him out. Flirt with the bartender the next time you guys go for drinks (or whatever it is that you do).
If you do this, there should be at least a slight air of jealousy from him, even if it's something as small as a bad look or an extremely loud clearing of the throat.
The fact is, when we love someone, we want them all to ourselves. And it's not just women who get like this.
There are ways to handle jealousy. So, if he goes all out or gets abusive after every single interaction you have with the male species, go ahead and call him crazy.
And also maybe call the cops.
But a little jealousy never hurt anyone. In fact, it's quite normal.