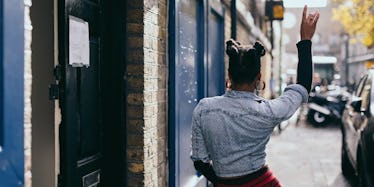 Breakup Songs That Will Empower You To Demand Better In Your Next Relationship
Mauro Grigollo
In the immortal words of Neil Sedaka, breaking up is hard to do. We don't always like it, and sometimes it can blindside us.
It can take a toll on us that we don't always expect. We get sad; we get mad; we rage-check their social media to see what they're doing now that it's over. (What? Everyone does it, OK?)
We do plenty of things to cope with our sadness. We take frequent naps; we stare at old pictures or videos on our phones; we binge-eat or don't eat at all; we rage-text our friends; we watch an inordinate amount of Netflix.
I've always been a person who uses music as a form of therapy. I listen to sad music when I'm sad, film scores to lull me to sleep, love songs when I'm feeling fuzzy and loud music when I've had a bad day. I believe in the power of music and what it can do for us.
And it always comes in handy when you're dealing with a breakup. There are literally millions of songs about the pain of heartbreak, the sadness of romantic nostalgia, lost love, scorned love, literally every aspect of the pain. It's actually pretty magical.
But at a certain point, it's time to turn those frowns upside-down. You need to get back into your groove and remember that you're a sparkling star, and whoever it was who left you heartbroken isn't worth your time.
This is when the fun music starts.
Once you've hit that point in the breakup process, it's time to bust out all the songs that empower you and bring you back to your pre-breakup glory.
Here's a list of empowering songs to get you back in that groove, my friends:
"Hair" by Little Mix
One would think I would have suggested their current hit "Shout Out to My Ex" as the breakup anthem, but I prefer "Hair."
It's a feisty pop jam that reminds you that you can wash anyone out of your hair (read: your life) and you don't have to talk to or see that person if you don't want to. He was just a dick. You've had enough.
Also, it's totally normal for you to change your hair after a bad breakup, so if this pushes you to do it, you go, girl.
"Since U Been Gone" by Kelly Clarkson
I know, I know, this is a pretty common one. But let's face the facts: Has Kelly Clarkson ever done us wrong? Answer: NO.
This is one of the most popular breakup songs ever because K. Clark reminds us it's sometimes better to be without someone than it is to suffer through the relationship just to say you're in one. You feel me?
Scream along with this one and by round three or seven, you'll start to feel it in your bones that you can move on and don't need someone who's no longer benefiting your life to share in it.
This is one of the ultimate breakup songs. It doesn't even need an explanation. You will feel so amazing after listening to it on repeat.
J. TIMBS FOREVER.
"Survivor" by Destiny's Child
If Destiny's Child taught us anything, it's that we can rise above a breakup as an even better version of ourselves.
We can survive anything. We are strong. We are powerful. We can maybe even rock camo bikini tops and shorts. It's up to us to decide what we're capable of.
And to learn that we don't even have to blast someone on the internet? That we can be better than that? Oh, children of destiny, you were always so wise!
"Circle the Drain" by Katy Perry
Here we have some classic Katy Perry reminding us we don't have to put up with someone feeding us lies and treating us like we're not important.
It's one thing to be there for someone when they're suffering, it's another thing entirely to have to be pushed aside and treated like we're not important in some way because of it.
You should never let someone treat you poorly if they're just going to give you excuse after excuse when they make the same mistakes over and over again. Kitty Purry reminds us of that.
"You Oughta Know" by Alanis Morissette
Talk about one of the biggest FUCK YOU anthems. This is a major classic for a reason. She was hurt, she was angry and she was ready to let everyone know.
Scream along to this in the shower, in the car, as you get ready for work, and soon enough, you'll no longer care why your cheating ex left you.
If, you know, that's something that happened to you. And if it's not, then it's nice to scream about someone who left you a total mess when they went away. Win/win.
"Ballad For The Lost Romantics" by New Found Glory
Who doesn't want to sing in chorus about saying things to an ex you're not supposed to and how you're just a fool for doing so?
This song from New Found Glory isn't as well known as the others on this list, but it's a great one and you need to hear it. Knowing you're not alone in your heartbreak is huge when you're getting through a breakup, and this song will remind you there are plenty of people in the world making the same stupid mistakes as you.
Hey, heartbreak is hard. You're bound to make mistakes. Let's scream about it.
"That's What You Get" by Paramore
This is a bouncy number that reminds you how easy it is to get lost in someone, and how it can drastically change your actions and who you were in that relationship.
As you scream about how you burned every bridge because of that person, you can take a step back and think, "OK, now that that's over, how do I fix what I did? How do I get back to being the person I was before?"
Hayley Williams knows your soul, guys. I promise.
There are plenty of ways to deal with a breakup. But when we let music take us from one point in the process to the next, better place, we're setting ourselves up for progress.
We're moving toward healing, and music helps us see more clearly that the relationship wasn't meant to be forever.
It allows us to move on and know that the next one will be different and better than what we had before. It allows us to learn from this heartbreak.
Heartbreak doesn't last forever, my friends, but music always will. Now, get jamming and remember what a sparkling diamond you are!