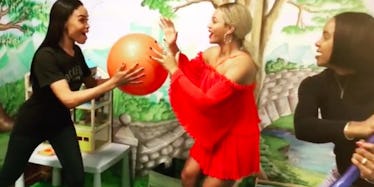 Destiny's Child Made The Mannequin Challenge Look Too Easy In Instagram Vid
Instagram
Well, it seems like Destiny's Child might have resurfaced on social media at the perfect time.
No, this has nothing to do with the presidential election (sorry, America). But it does have to do with something just as relevant: the Mannequin Challenge.
You know, it's that weird "challenge" that's taken over social media.
It requires you to stand completely still, as a mannequin would, and capture the stunt on camera.
It kind of looks something like this, but in video-form.
Tons of celebrities, sports teams and random people on the Internet have contributed... but none of them made the challenge look as easy as the lovely ladies of Destiny's Child made it look!
Now, at this point, you're probably confused. Allow me to clear up that confusion...
DESTINY'S CHILD IS BACK ON SOCIAL MEDIA. A couple of weeks ago, a mysterious, verified Instagram account popped up.
Just hours later, the account was confirmed to be Destiny Child's page.
As of now, EVERYONE is anticipating some kind of reunion album, or at least a weekly #TBT to keep us all accepting the fact that Destiny's Child might not be... well, Destiny's Child ever again.
But we got a lot more than we'd hope for...
Behold the "Mannequin Challenge:" Destiny's Child edition.
Are you thinking what I'm thinking? They fucking crushed it!
Not only did they make everyone else's Mannequin Challenge look weak AF, but they proved to us that Destiny's Child is more than just an old music group with a revamped Instagram account managed by Sony Entertainment!
Destiny's Child is very, very alive, people -- and this epic challenge video proves it. I mean, they are SO still that I almost thought this was a stop motion video. ALMOST.
Hell, it could be fake. Who even knows?! Until Destiny's Child hits the stage together and proves us all wrong, I don't know what to believe. Make it happen, ladies!
Citations: Destiny's Child (Yes, Destiny's Child) Takes On the Mannequin Challenge (Billboard)