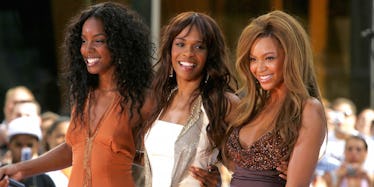 A Destiny's Child Instagram Popped Up And Fans Are Rightfully Losing It
Shutterstock
Hey, ladies.
I'm calling all Independent Women and Nasty Girls for a few Confessions that are So Good, No No No one will be able to keep you from Jumpin' Jumpin' out of your damn seat with Emotion.
I'm sorry, I want to stop but I Can't Help Myself.
OK, I'm done. Besides, I need you to Stay and keep reading because If You Leave you may never hear the big news: Destiny's Child is back.
Well, all right, the iconic R&B trio has surfaced on Instagram with a verified account managed by Sony Music Entertainment. The account posted its first photo a week ago, and has kept updating regularly since.
Sony treated us to a throwback of Beyoncé, Kelly Rowland and Michelle Williams looking like three sexy beige couches.
It almost feels as though the early-aught age of low-rise jeans and those big-ass woven belts everyone loved is upon us again.
With it, could Destiny's Child be reconvening for a reunion show? OR RELEASING — OH MY GOD — NEW MUSIC, MAYBE???
The band's 20th anniversary is a few short months away, causing the diehard fans among us to wonder whether the ladies will honor their earliest career successes and give the people the sweet, sweet harmonies we crave.
Destiny's Child's original lineup included Bey, Kelly, LeToya Luckett and LaTavia Roberson.
Destiny's Child Members : Beyonce Knowles,Kelly Rowland,LaTavia Robertson,LeToya Luckett and Michelle Williams pic.twitter.com/XArsEwoHwb — CharisseTaehyung (@Taerisse) July 2, 2016
LeToya and LaTavia were replaced with Michelle Williams in 2000 and went on to found Anjel, a foursome who, though they never released an album, did record a 22-song demo. It should be noted the demo included R&B gem "Trippin," the refrain of which introduced the world to the phrase,
So, what, you mad 'Cause he kicked you to the cizurb? You bringin' drama to my home That's absiderd
The true absiderdity here, though, is Sony's insistence on casually dropping throwback after throwback of Destiny's Child without any explanation.
Info on DC's website appears to have been updated frequently (for a defunct act, at least) since they disbanded in 2006.
Granted, the site's layout looks like the taupe version of my LiveJournal from high school, but with no reunion officially announced, this is still a real take-what-you-can-get kind of situation.
Fans are trying to keep it cool and casual, but beneath these still waters lies a sub-oceanic volcano of anticipation.
So all of a Sudden there's a brand new official Instagram for destinys child... verified and everything... I smell a reunion — AUGUST (@TheAugustAllen) October 27, 2016
destinys child has a verified Instagram account .. SHOOK pic.twitter.com/pI5qQRERyH — Jay'Malik (@JustCallMeKINGJ) October 28, 2016
Before we explode, let's edge our Destiny's Childgasm with a confirmation from Kelly claiming there's no reunion whatsoever planned for the girl group.
Last Monday, at the ELLE Women in Hollywood Awards, the 35-year-old told E!,
We haven't even talked anything about [a reunion]... We've just been enjoying each other's company and love and enjoying being women.
The world needs Destiny's Child now more than ever. Consider it, ladies. Don't let this Insta be merely an Illusion.
Citations: Why Is There a New Destiny's Child Instagram Account? (NY Magazine)