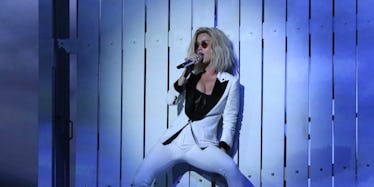 Katy Perry's Grammys Performance Was A Bold Statement Against Trump
REUTERS
If you tuned into the 59th annual Grammy Awards last night, you may have seen Katy Perry put on quite a phenomenal show.
But did you know the 32-year-old singer delivered more than just a top-notch award show act?
Yep, Katy Perry's Grammys performance also doubled as a bold political statement against Donald Trump.
On Sunday night, Perry took to the stage dressed in a white pantsuit and a "Resist" armband. She performed the new song she released on Friday called, "Chained to the Rhythm."
Perry, who was a big advocate of Hillary Clinton during the presidential election, made it pretty clear she will be using her music to stand up for the issues she feels passionate about.
Like, you know, letting the world know how displeased she is with President Donald Trump's administration, for example.
During the performance, Katy Perry sang as she stood behind a white picket fence, which eventually broke away to reveal mirrored screens and white dancing figures.
Skip Marley, grandson of the late reggae legend Bob Marley, joined Katy Perry on stage toward the end of the performance, as images of the United States Constitution and the words from its famous opening, "We The People," flashed in the background.
If you pay close attention to the lyrics of "Chained to the Rhythm," you'll quickly notice this song is one of Perry's most explicitly political pieces.
She sings about the current political climate, with lyrics like, "So comfortable, we're living in a bubble, bubble. So comfortable, we cannot see the trouble, trouble."
"Are we crazy? Living our lives through a lens. Trapped in our white picket fence like ornaments," she sings.
Skip Marley, on the other hand, makes an even stronger political statement about President Donald Trump's administration with his lyrics, saying, "We're about to riot."
Katy Perry's Grammys performance ended on a strong note, with the newly blonde singer belting out the words, "No hate," before exiting the stage.
Perry is just one of many celebrities to use award shows as the perfect opportunity to voice her opinions about Donald Trump to the world.
Citations: Katy Perry gave a blistering anti-Trump Grammys performance with a message to 'resist' (Business Insider)