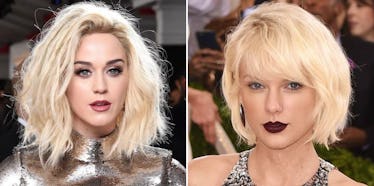 Katy Perry May Have Stolen Her 2017 Grammys Look From Taylor Swift
REX/Shutterstock
Pop music is working hard to find its latest look, and it seems to have settled on fried bleach.
Taylor Swift pioneered the return of Debbie Harry's crispy platinum messy bob at the 2016 Met Gala, but Katy Perry took it to a whole new level at the 2017 Grammy Awards.
Dressed like a woman being eaten alive by a massive space worm, Katy sashayed down the carpet Sunday evening with the same hairstyle as her celebrity nemesis.
Taylor Swift didn't release an album in 2016, meaning she's not nominated and, therefore, not attending this year's Grammy Awards.
Due to her absence, it is yet unclear whether Katy Perry had her hair cut and dyed in a similar fashion, or personally scalped her red carpet enemy and wore her actual hair to the ceremony.
The pop pair's feud is no mystery to fans. Sure, Andy Cohen slipped up at last year's Met Gala, but otherwise we're pretty on top of it.
In his memoir, "Superficial: More Adventures from the Andy Cohen Diaries," the "Watch What Happens Live" host recalled the moment he saw Taylor scanning the room for a seat and suggested she pop a squat next to Katy.
He wrote,
I innocently said exactly the wrong thing to her, which was: 'Your friend Katy is sitting in the corner and there's plenty of room around her' … She asked, 'Katy who?' and I said, 'Perry,' at which point she clearly let me know that she's the exact opposite of her friend.
Apparently, Taylor then advised Andy "not to say a word about this on [his] show."
The host added,
That made me feel good momentarily good until I realized there might've been a 'fucking' thrown in there before 'your show,' or was that my scared imagination? (If she's watching my 'fucking' show, that makes it a little less exciting.)… I sputtered that I had no plans to say a word about it on my show… She didn't threaten me about putting it in my book… so here we are.
Loopholes. Gotta love 'em.