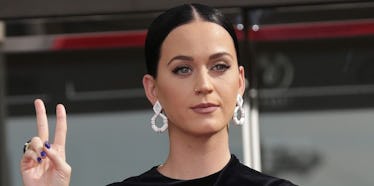 Katy Perry's And Other Celebs' Inauguration Plans Include Sleeping And The DMV
REX/Shutterstock
While you were rage vomiting under your desks all day, catching glimpses of Trump's inauguration through the cracks between your fingers, celebrities were finding their own ways to cope with the changing political landscape.
Don't worry, don't worry. They tweeted all about it.
Chrissy Teigen kept her sights on Saturday's Women's March on Washington.
Because that's not the sort of party you walk into unprepared.
"Billy on the Street" star Billy Eichner chose to focus on the return of one of TV's greatest ensemble casts.
Because we all need to escape and no one is super sure how to get to Canada.
JK Rowling crushed the tiny, gleaming remainder of our dreams into a fine powder by killing all "Cursed Child" trilogy rumors.
Katy Perry slept late, reserving her energy to proudly cry-march beside Chrissy.
Because the grind can't stop, even for that Cheetos-dusted bird dump's swearing-in ceremony.
She's had a YEAR. Let her do whatever she wants. She wants to brush her hair with a damn fork like a mermaid of undersea legend? Let her.
Elizabeth Banks renewed her license, or something.
Uh, hi. We can't just stop tending to our responsibilities because a turbo clementine gained sentience, made some sexually and fiscally reprehensible choices and ran for the highest political office in the land. We still need to drive places.
We as a nation -- a nation that is home to both Hollywood and a bevy of literal and figurative man-eating sinkholes -- are now tasked with going about our daily lives and maintaining an unprecedented level of political awareness.
America can be a place where Kimmy has time for her forks and time to be a voice for the voiceless. It can be a nation of Chrissys and Katys, who march for women's rights but also nap super hard.
It can be the only country in the world with not just one, but TWO eras of "Will & Grace."
Let us build this paradise together.
Citations: Celebrities Are Tweeting About Donald Trump's Inauguration (Refinery29)