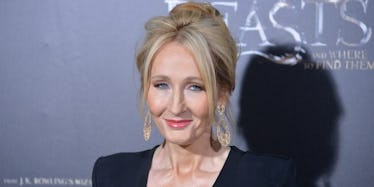 JK Rowling's Crushing 'Harry Potter' News Just Made Inauguration Day Even Worse
REX/Shutterstock
Apparently, JK Rowling feels witnessing Voldemort get sworn in wasn't enough suffering for today — she also had to crush dreams of a new "Harry Potter" movie.
If you were all excited about those "Cursed Child" movie rumors, well, don't be. 'Cus, according to Queen Jo, that ain't happening.
Rowling delivered the news via Twitter on Friday while Donald Trump was gearing up for for the presidential inauguration.
While she seemed to understand why people would want to believe the rumors on today of all days, Rowling set the record straight by tweeting,
I know a lot of people are looking for reasons to be cheerful today, but there is NO TRUTH to the rumour about a #CursedChild movie trilogy!
To be fair, she did offer comforting hugs to a fan who pointed out that now is maybe not the best time for this disappointing news.
But she really, really wants you to know it's not true.
So, sorry guys, but there is no more "Harry Potter" movies with Daniel Radcliffe and Emma Watson. Oh, and also, Donald Trump is president of the United States.
The rumor in question was a three-film adaptation of "Harry Potter and the Cursed Child" supposedly in the works. There were also murmurs of Rupert Grint, Emma and Dan reprising their roles as Ron, Hermione and Harry in the films.
This false rumor — which was recently reported by Cosmopolitan, Good Housekeeping and more — originated from Jim Hill, according to Hypable.
Hypable reports Hill is "a reputable source in the theme park community," and in a recent podcast, said,
I have heard that Warner Bros. has actually had conversations with [Emma], with Rupert, and, of course, Daniel about Cursed Child, because they want this to be, for lack of a better term, 'Harry Potter: The Force Awakens.' They want this trilogy of movies to have the actors that we know and love from the original films, that we watched grow up, as adults.
While it's very possible a "The Force Awakens" -esque trilogy is something Warner Bros. would want to happen for our boy Harry, it looks like Queen Jo is putting her foot down on this one.
Yep, it looks like Rowling's not interested in running a story into the ground for money–
Oh. Never mind then.
Anyway, Daniel Radcliffe also is not looking to get back into Harry any time soon — unless it's something REALLY cool, he said.
Last summer, the 27-year-old actor said in an interview with Radio Times that his return to the Wizarding World "depends on the script."
He said,
The circumstances would have to be pretty extraordinary.
So, let's not rule it out completely, but I think the chances of seeing the OG cast at Hogwarts again is very, very slim.
But don't worry. There are still four more movies of "Fantastic Beasts" to look forward to.
Citations: J.K. Rowling squashes 'Cursed Child' movie rumors, but the source is reputable (Hypable)