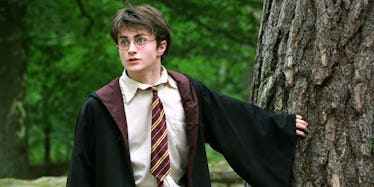 Another 'Harry Potter' Movie Might Actually Happen And We Can't Handle It
Warner Bros.
After a recent interview with Reuters, J.K. Rowling expressed that Harry Potter is "done," which sent fans into a deep depression.
The news came just before Rowling announced that she would be releasing a collection of short stories revolving around the "Harry Potter" literary series.
This is the next generation, you know… So, I'm thrilled to see it realized so beautifully but, no, Harry is done now.
The three new books will be made available to fans through Rowling's digital publishing company Pottermore.
Now, that's awesome and all, but what if I told you that Warner Bros. might actually want to bring Harry Potter back for a new trilogy on the big screen?!
According to the New York Daily News, rumors are swirling that Warner Bros. is looking to capitalize on the success of the "Harry Potter" stage play "The Cursed Child."
Here's where things get serious.
Warner Bros. has reportedly filed for a new class 9 trademark for "The Cursed Child," which would allow the studio to produce a motion picture for the play.
An insider spoke to the Daily News about the rumors, saying,
Warners is secretly working on getting the movie rights and a screenplay settled, and of course in their minds only one man should be Harry.
Daniel Radcliffe, of course! And the crowd goes wild.
The source continued,
However, he has made it clear that his mind is certainly not focused on returning to the role anytime soon — and that could be until he hits 40.
Sure, this is all sounds great so far. I think any "Harry Potter" fan would be more than thrilled to hear that a major studio is looking to recreate "The Cursed Child" plays on the silver screen.
But how realistic is it that Daniel Radcliffe actually signs up for a new slew of "Potter" films with Warner Bros.? The source went on to say,
Daniel had that job for over a decade with huge success and critical acclaim, but since then he has really established himself as a very strong actor with films like 'The Woman in Black' and his Broadway work. He doesn't need to go back for money or to reboot his career, so he will need some persuading.
Hey, Warner Bros., send Daniel a few hundred baskets of fresh fruit or something. The world so desperately needs this to happen!
Friends, we'll just have to wait and see where this goes... but it seems like one of the biggest entertainment companies in the world is REALLY pushing to make these rumors true.
Citations: Rumor Has It Warner Bros. Wants To Bring Harry Potter Back For A New Trilogy (MTV)